2016 - PRESENT
2011 - 2015
DBQ
WRITTEN NAMES FANZINE
CANTAB PUBLISHING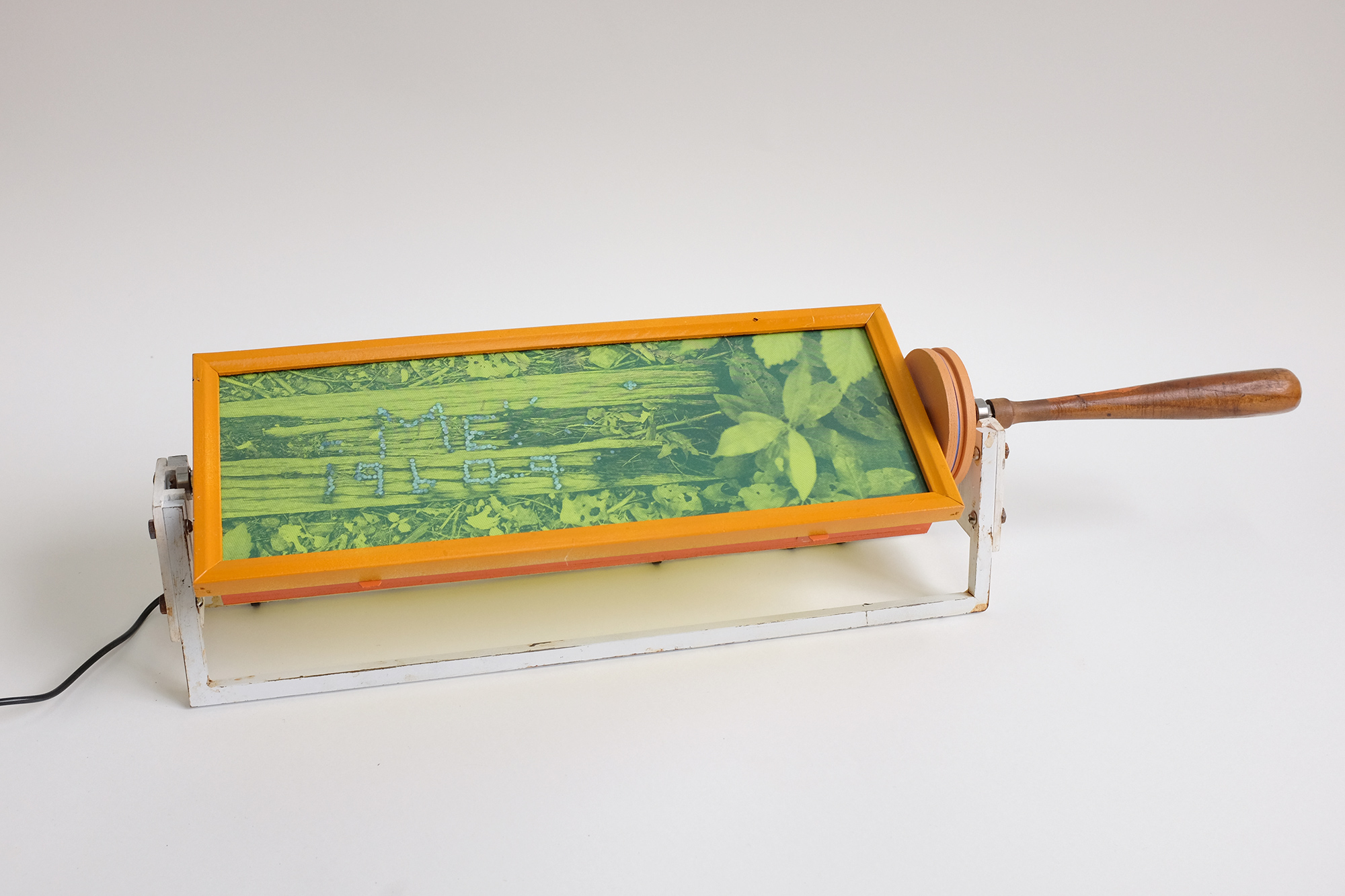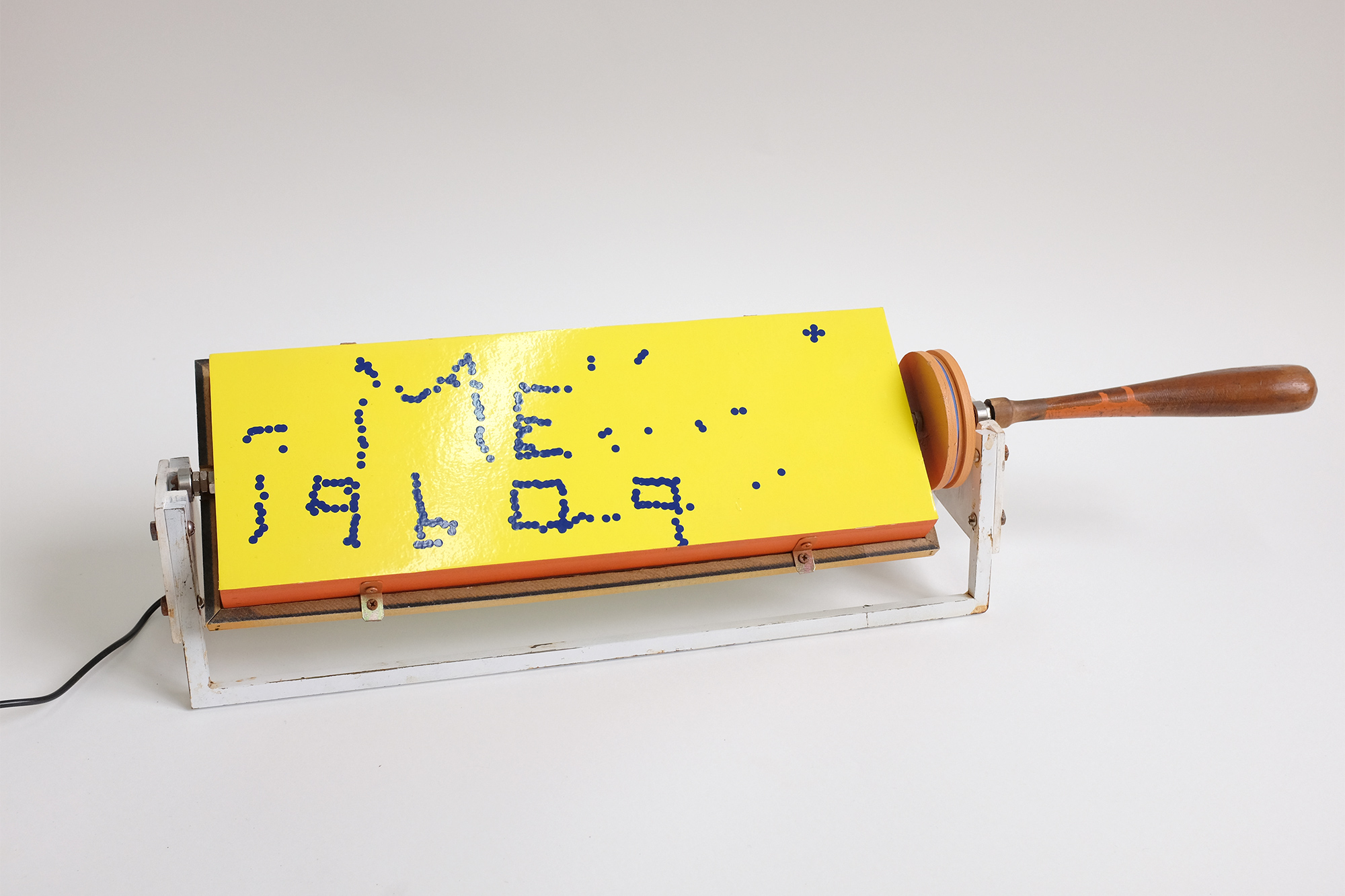 - ME . . . . * 1960_ 9 . . Cambridge, Massachusetts, 2017
Two-color risograph in artist's frame, vinyl and spray paint on wooden panel, steel and brass hardware, wooden handle, motor, rubber bands, zip ties on wood and steel armature. 7" x 25" x 5.25"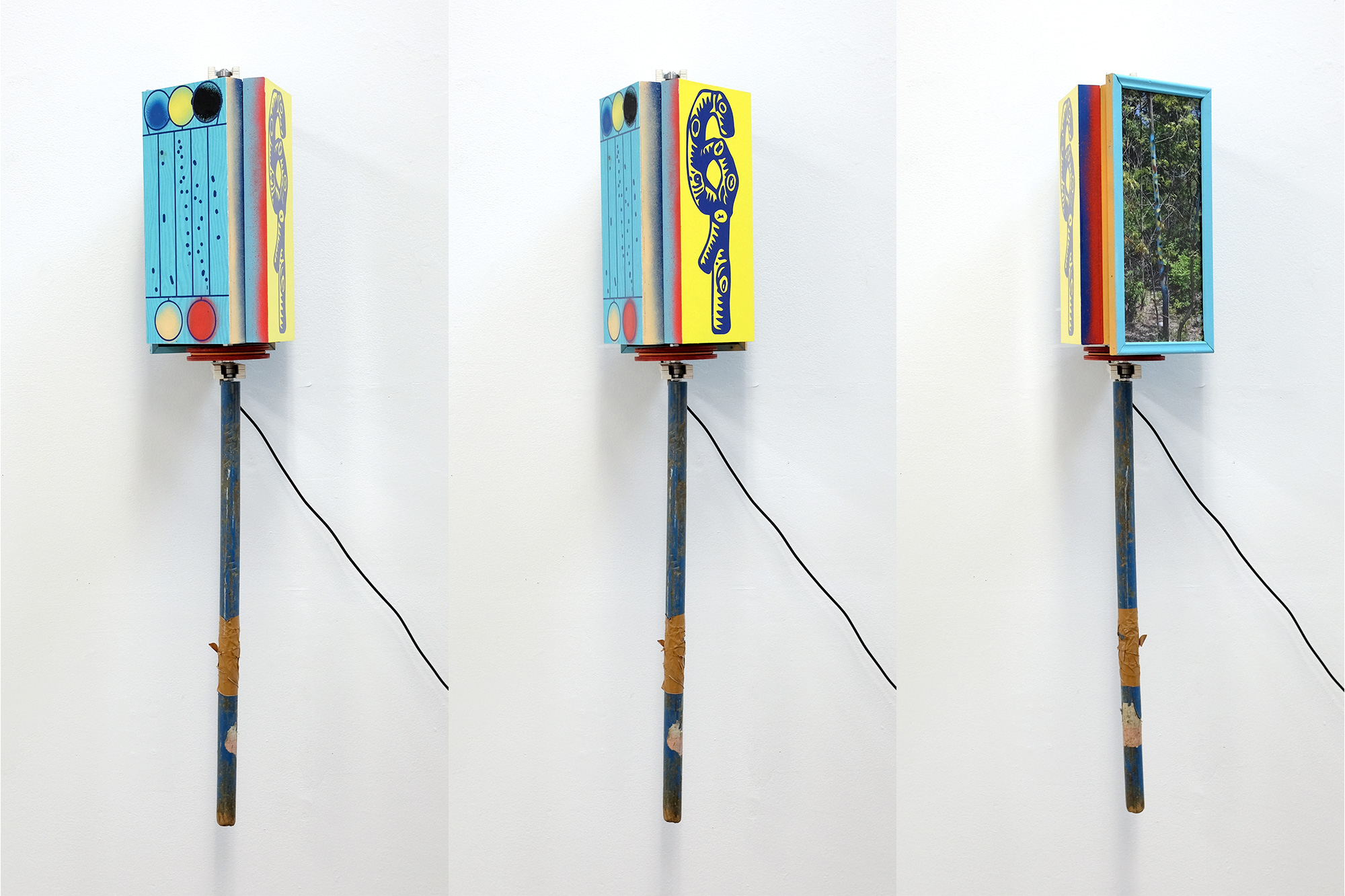 61 (Destroyed) & 17927, 2017
Inkjet print in artist's frame, risograph, screen print, vinyl, wood, spray paint, misc. hardware, steel, motor, zip ties. 34" x 6.75" x 10.5" with 7 minute audio. (Listen)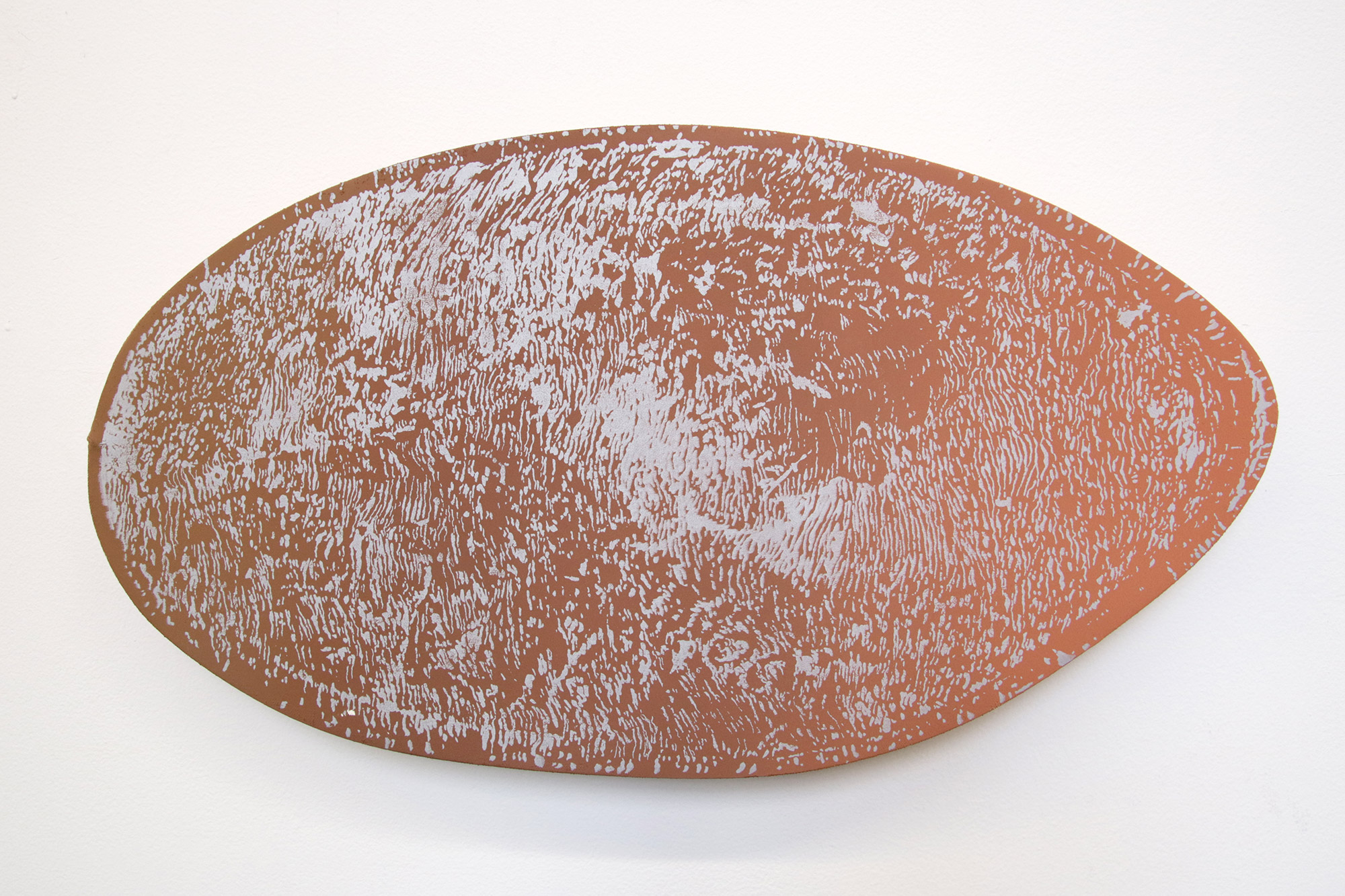 World's Largest Truck Stop, Interstate 80, Wallcot, IA, 2016
Screen print, acrylic and joint compound on canvas, 18.75" x 11.75"
Abraham Lincoln is as near to a secular deity as America possess. His likeness has become both ubiquitous, with over 9 billion one-cent pieces minted in 2015 alone, and highly disposable, as in the mildly popular form of the squished commemorative penny. This low form of souvenir operates as a print-on-demand memento and keepsake, as well as a desecration of presidential portraiture. Its creation at once destroys the monetary value of the coin, while simultaneously imbuing it with the nostalgia of tourism. Available at rest stops and gift shops, these pennies commemorate visits to everything from the banally grand "World's Largest Truck Stop - Route 80, Indiana" to the death of "Ford's Theater" and "The World Trade Center," imposed upon Lincoln's quotidian bearded profile.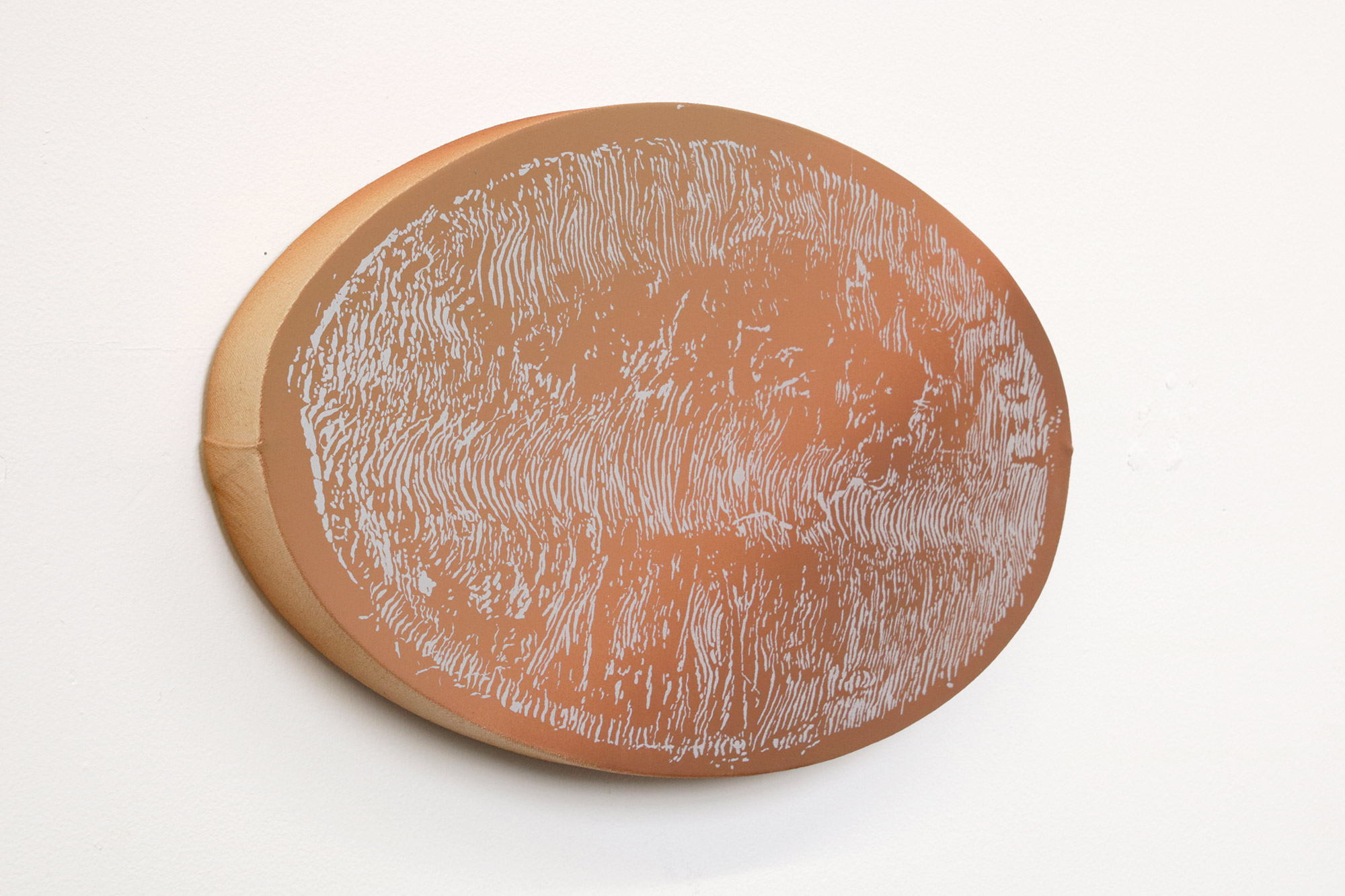 World Trade Center, New York, NY. Montvale Rest Stop, Garden State Parkway, Montvale, NJ, 2016
Screen print, acrylic and joint compound on canvas, 11.25" x 18"
Liberty Bell, Reading Terminal Market, Philadelphia, PA, 2016
Screen print, acrylic and joint compound on canvas, 11.75" x 22"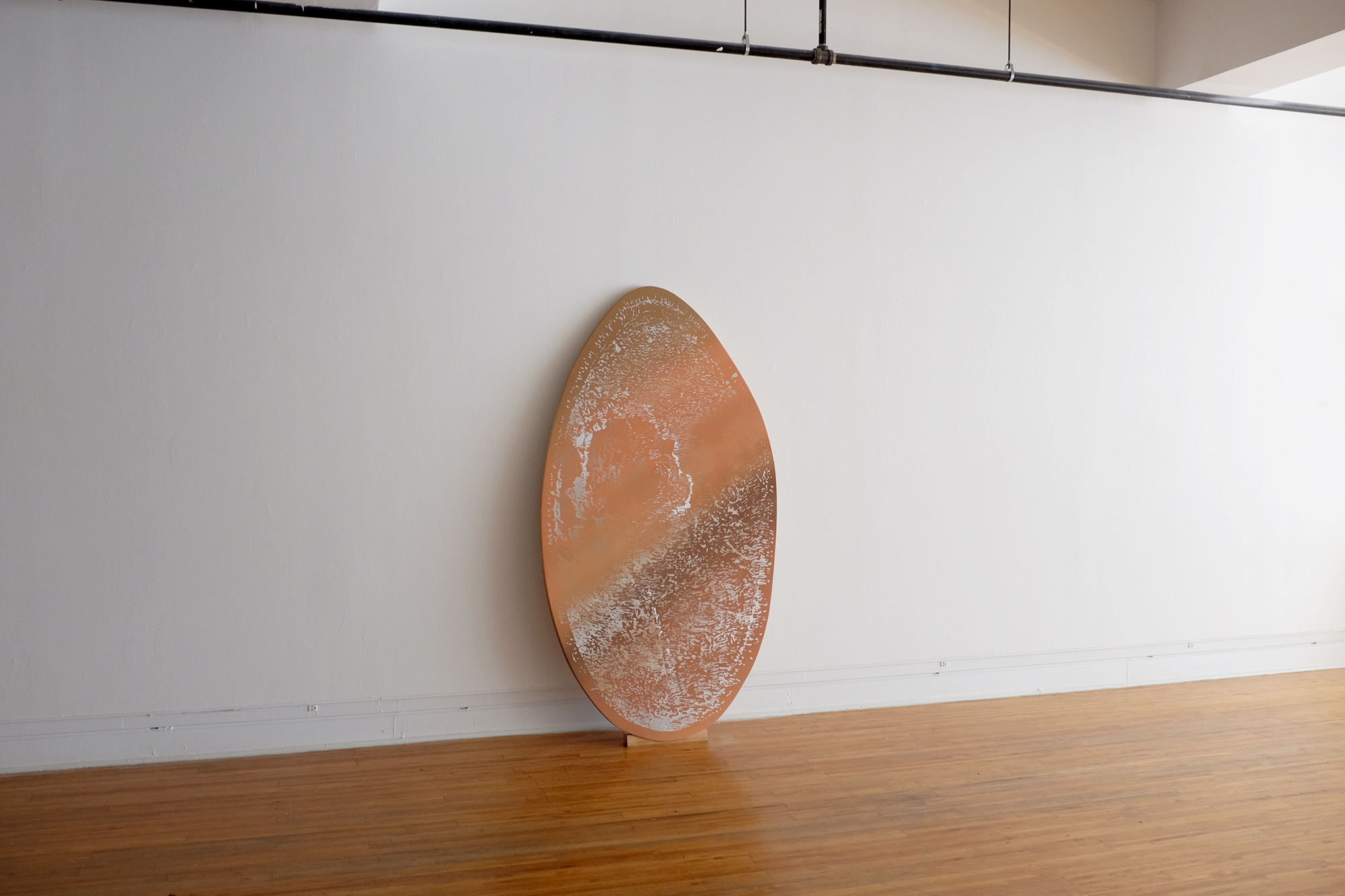 Ford's Theater Commemorative Squished Penny, Maryland House, Interstate 95, Aberdeen, MD, 2017
Acrylic and enamel on canvas with joint compound, on wooden stand. 43" x 80"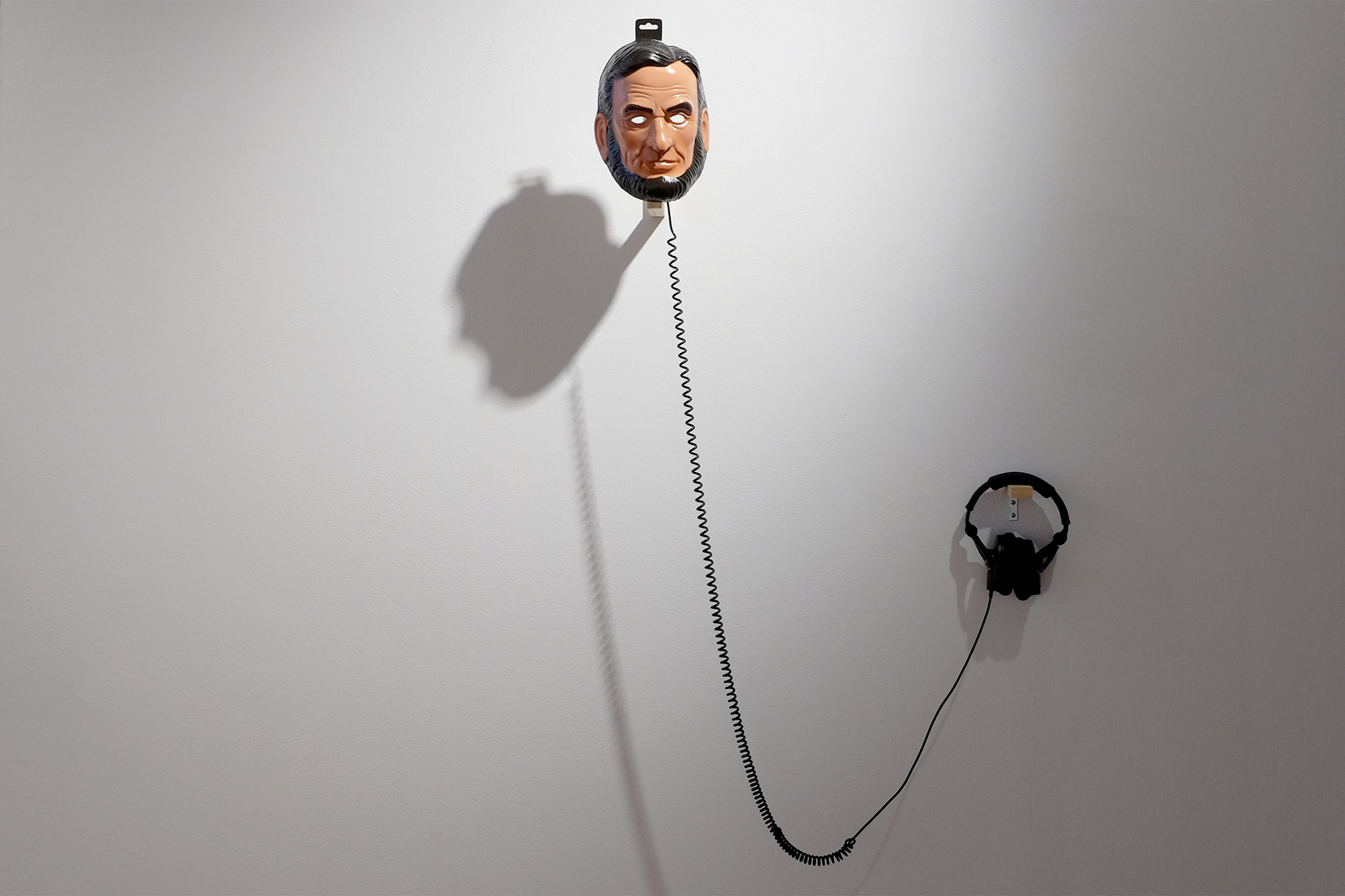 Forum Novelties Inc. Item # 63767 (Lincoln), 2017
Plastic mask with 16 minute audio, 7.75" x 12.25" x 6". (Listen)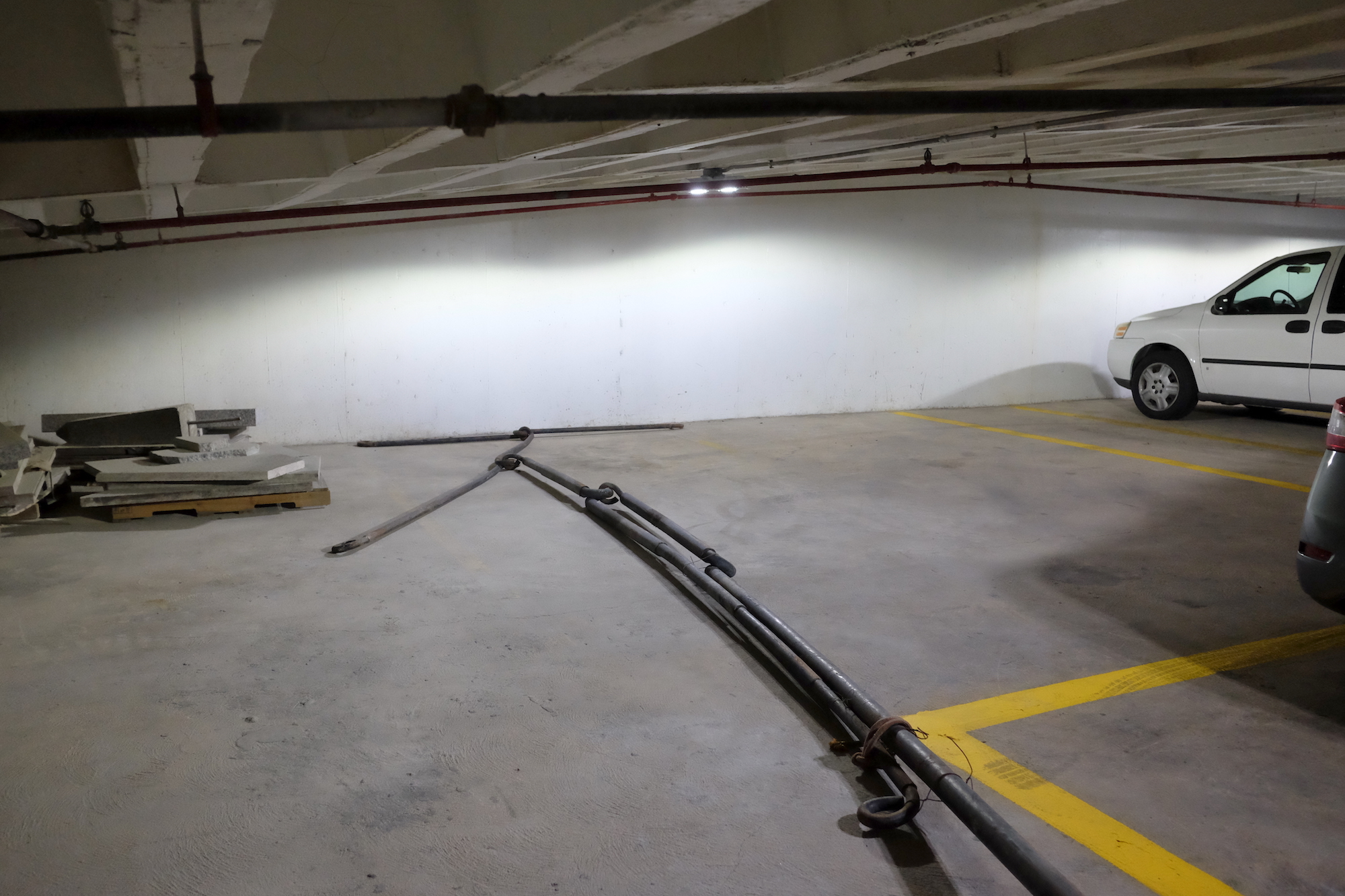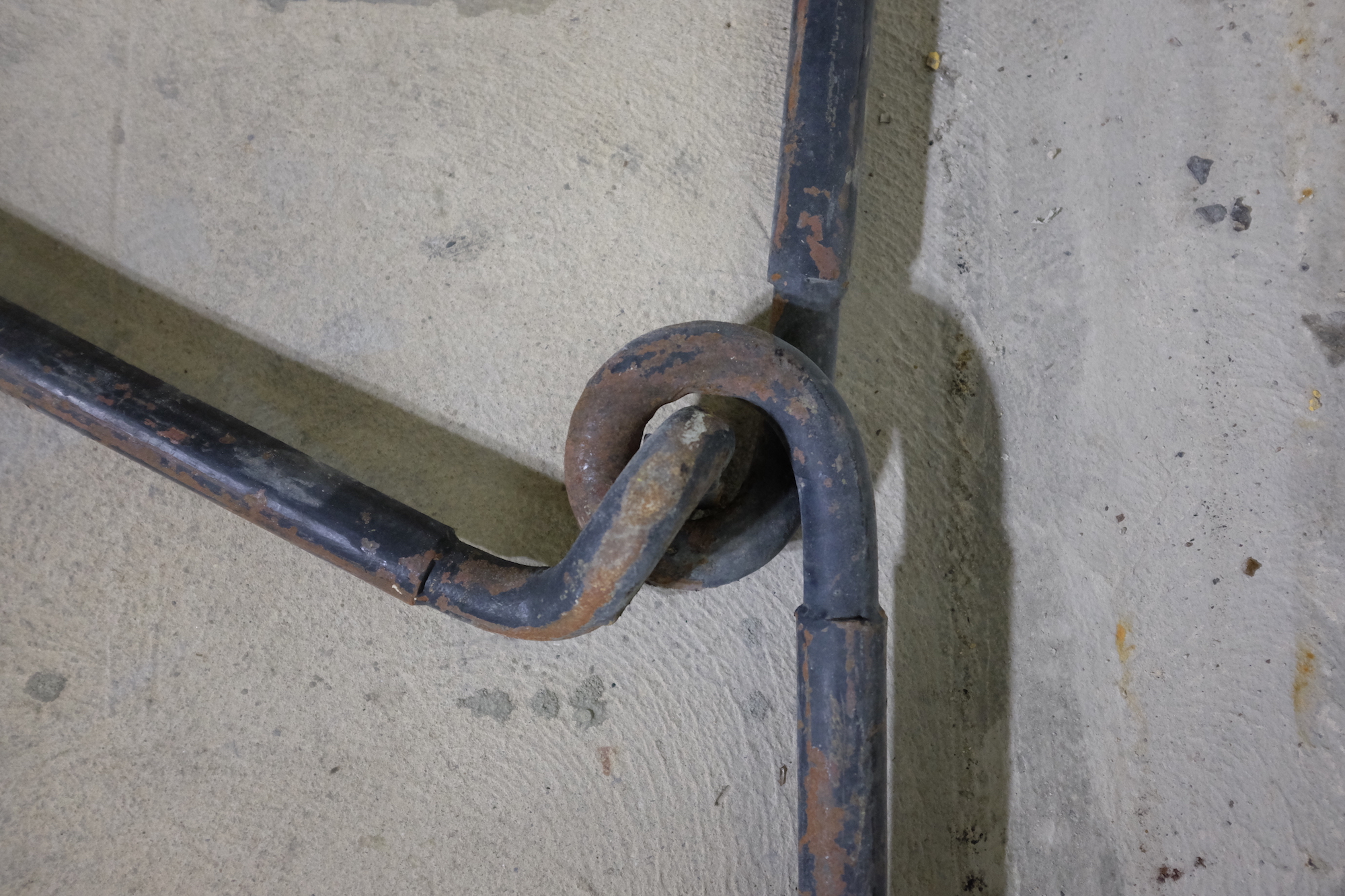 Immobile Mobile for Eight Hanging Banners, 1975 - Present
Alexander "Sandy" Calder (American, 1898 – 1976)

Collection of Equity Commonwealth
Commissioned by Jack Wolgin
Shortly before his death in 1976, Alexander "Sandy" Calder was invited to create a series of large, colorful banners for a new development at 1500 Market Street. Along with Claes Oldenburg's Clothespin and Jean DuBuffet's Milord La Chamarre, Calder's banners were commissioned for Centre Square as part of the Philadelphia Redevelopment Authority's Percent for Art Program. After several years on view in the lobby, the banners were removed in the early 1980s, ostensibly for cleaning, stored in plastic bins, and subsequently lost somewhere in the office building. They were rediscovered and temporarily re-presented at the Free Library in 2009.
Immobile Mobile for Eight Hanging Banners was originally fabricated as a steel mobile armature from which to hang Calder's banners, but was moved to the Centre Square parking garage after being deemed too heavy for the atrium roof. The banners were ultimately displayed using an alternative hanging method. Indicative of the artist's signature bent-wire forms, the work is in many ways more representative of the artist's oeuvre than the banners it was designed to support. Sitting since 1975, the sculpture has served as a permanent space-saver in a second level sub-basement parking garage purgatory.
Immobile Mobile for Eight Hanging Banners rests today as an obstacle. It inhibits retrieval of a 16' ladder and encumbers access to pallets of paving stones. It once fell victim to a wayward yellow paint striping crew and has witnessed a boxed-wine-fueled bacchanalia or two. It is an immobile mobile amongst the automobiles.
(Immobile Mobile for Eight Hanging Banners is in collaboration with Leah Mackin as DBQ)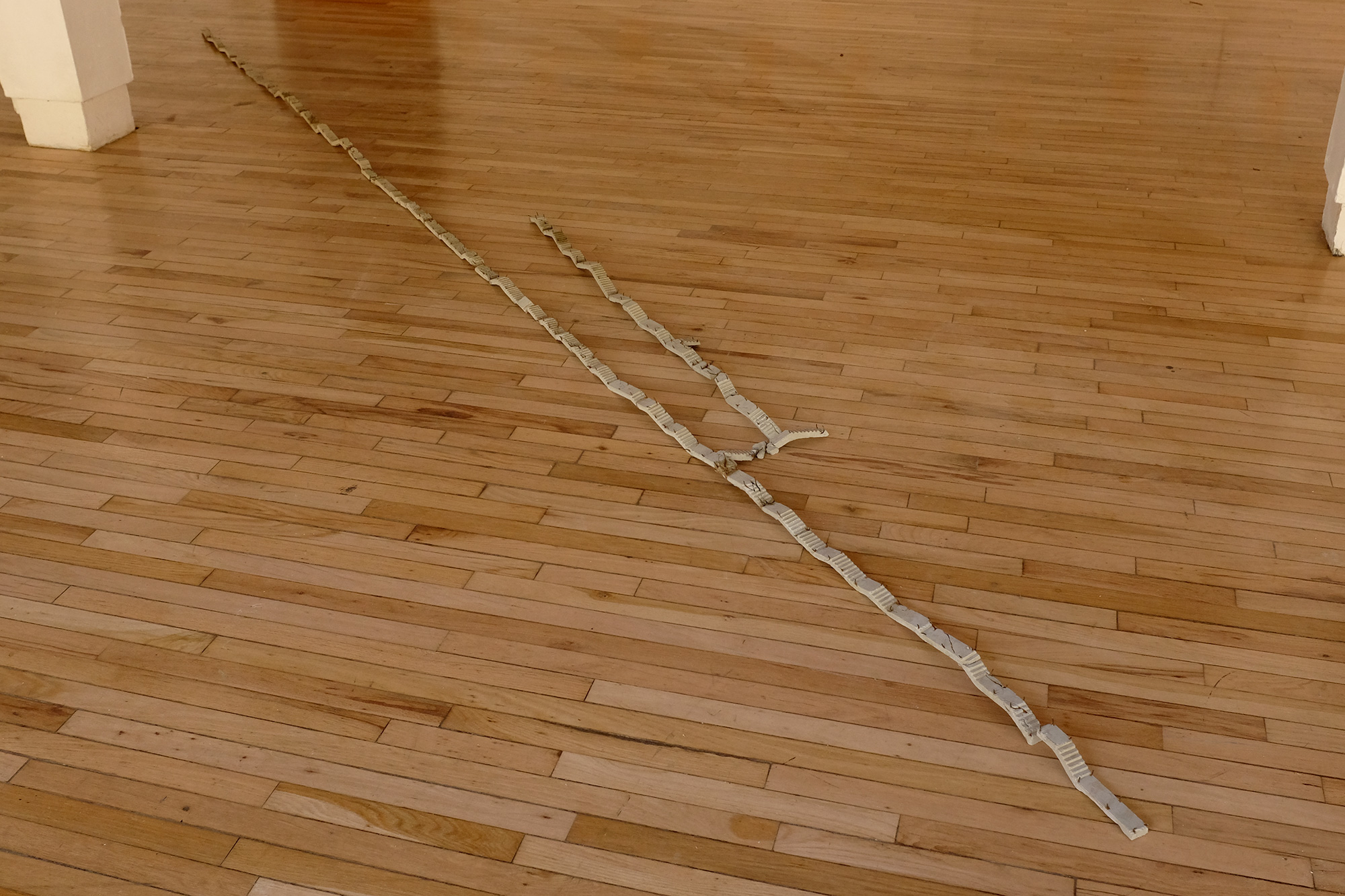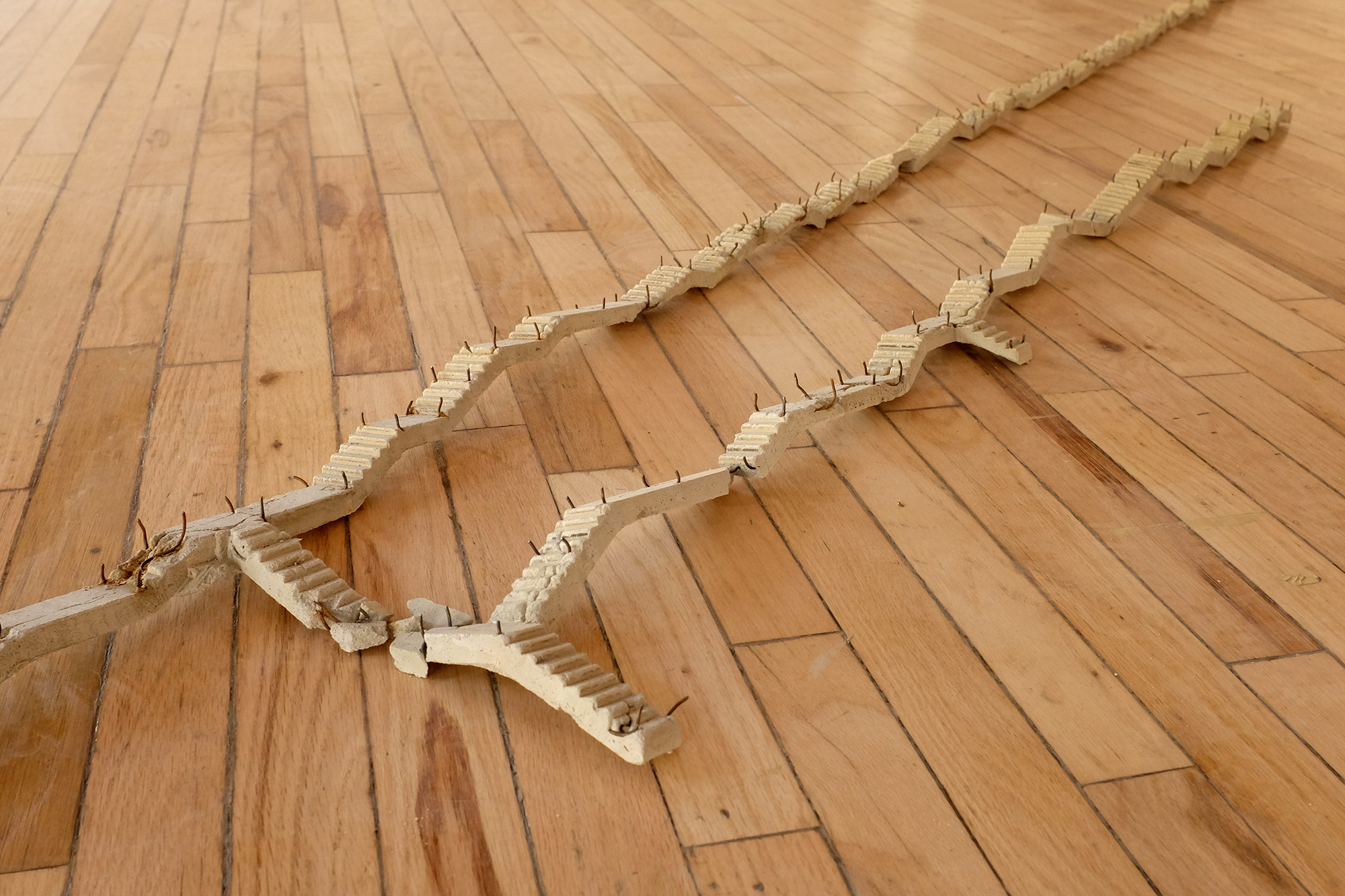 Rising Main Avenue and Toboggan Street Scale Model, 2016
Cast concrete and steel wire, 204" x 24" x 2" (Irregular)
A network of over 700 sets of concrete municipal steps provide pedestrian access through Pittsburgh's notoriously steep and overgrown hillsides. The Rising Main Avenue Steps in the Fineview neighborhood are the longest of these fragile, unkempt anthropocenic incursions in the city. They are crumbling and precariously unlevel. Sections and supports have fallen away, the rubble littering the hillside below. While generally firm underfoot, the uneven landings, irregular railings and intrusive plant life create a vertiginous pedestrian experience.
Connecting Warren and Howard Streets, the topography of the land makes it impossible to view the Rising Main Avenue Steps in their entirety from the top, bottom or middle. About two thirds of the way down (or one third of the way up), a section of the seafoam green steel railing has been cut away. In its place, a seventeen-foot length of garden hose (the length of this scale model) has been tied - a modest, neighborhood, DIY-repair to a cut that would otherwise never heal.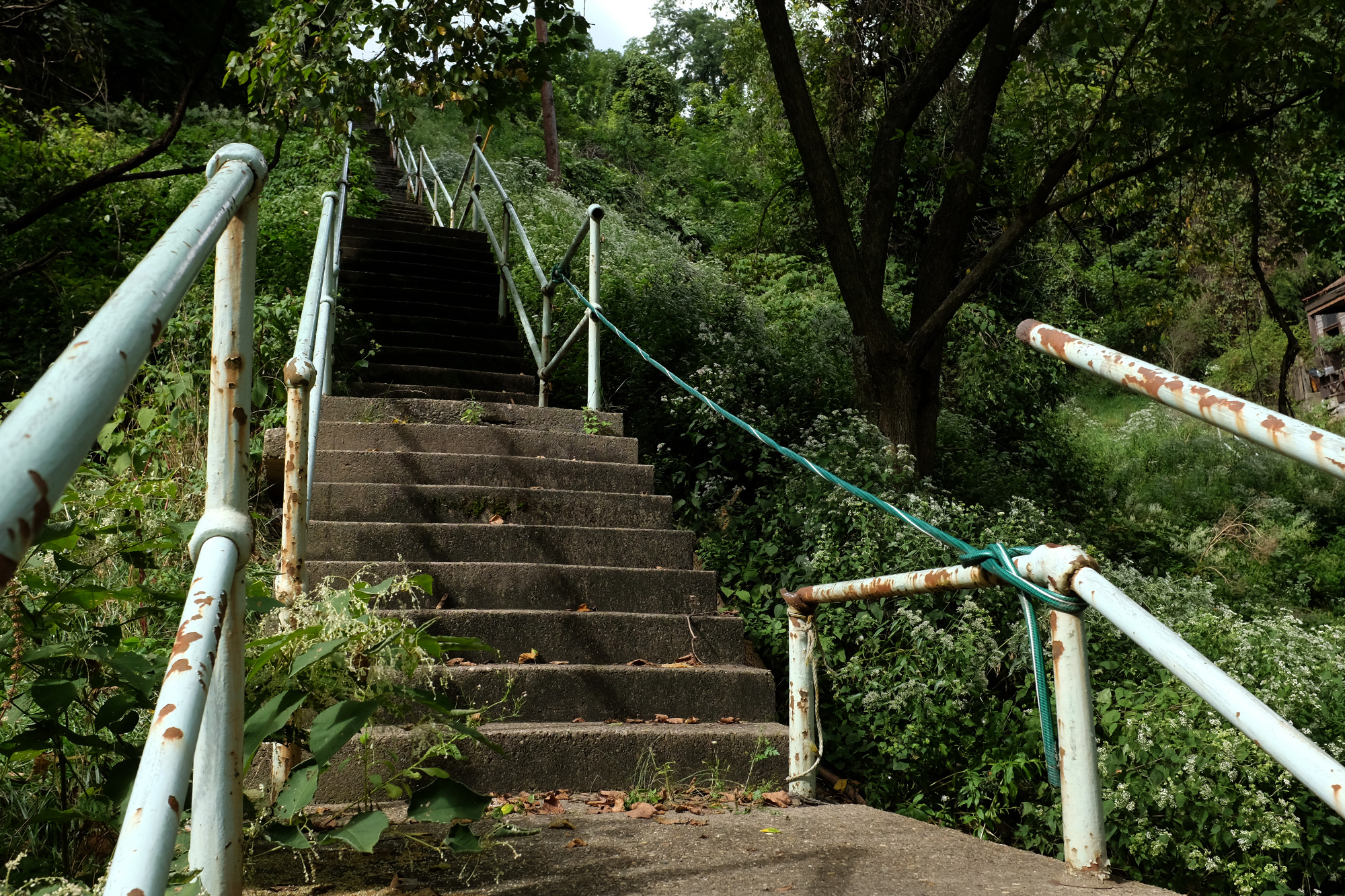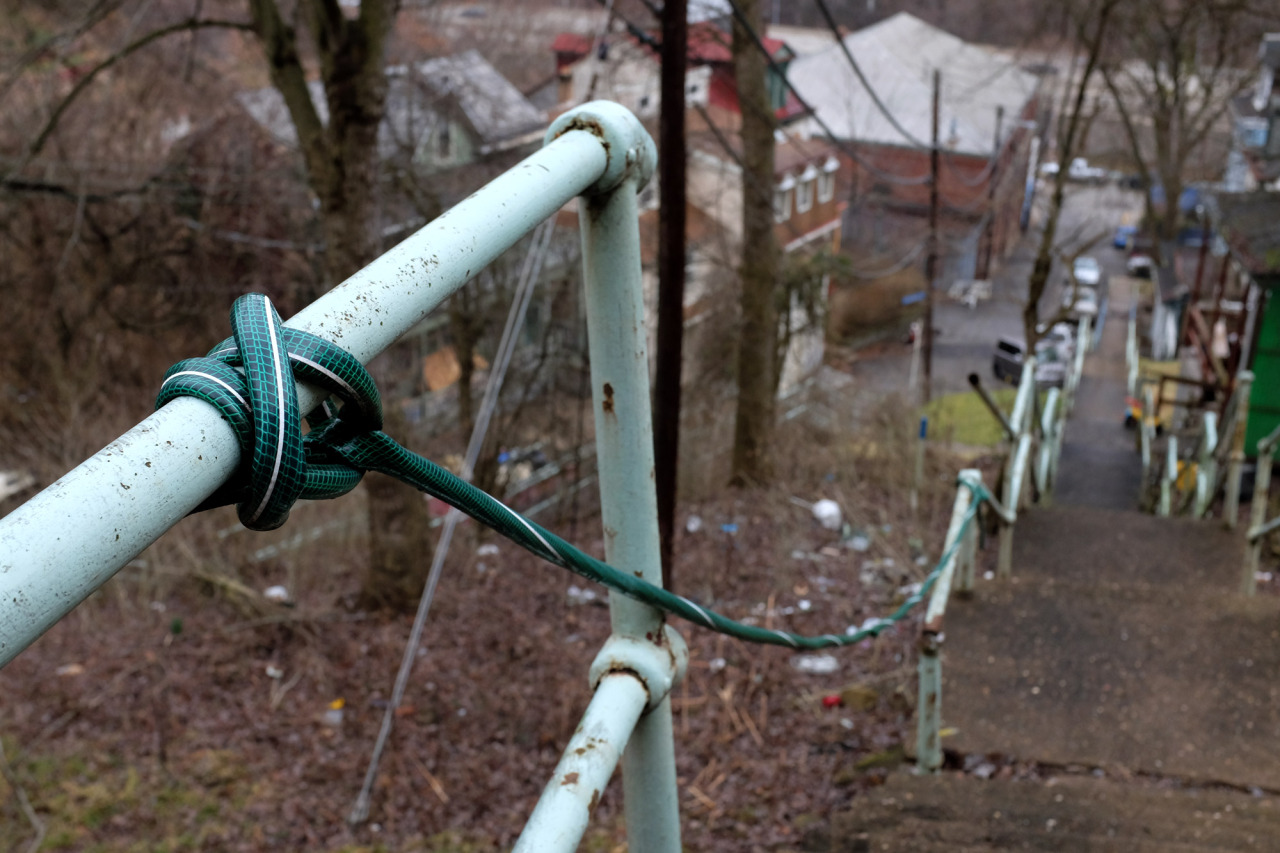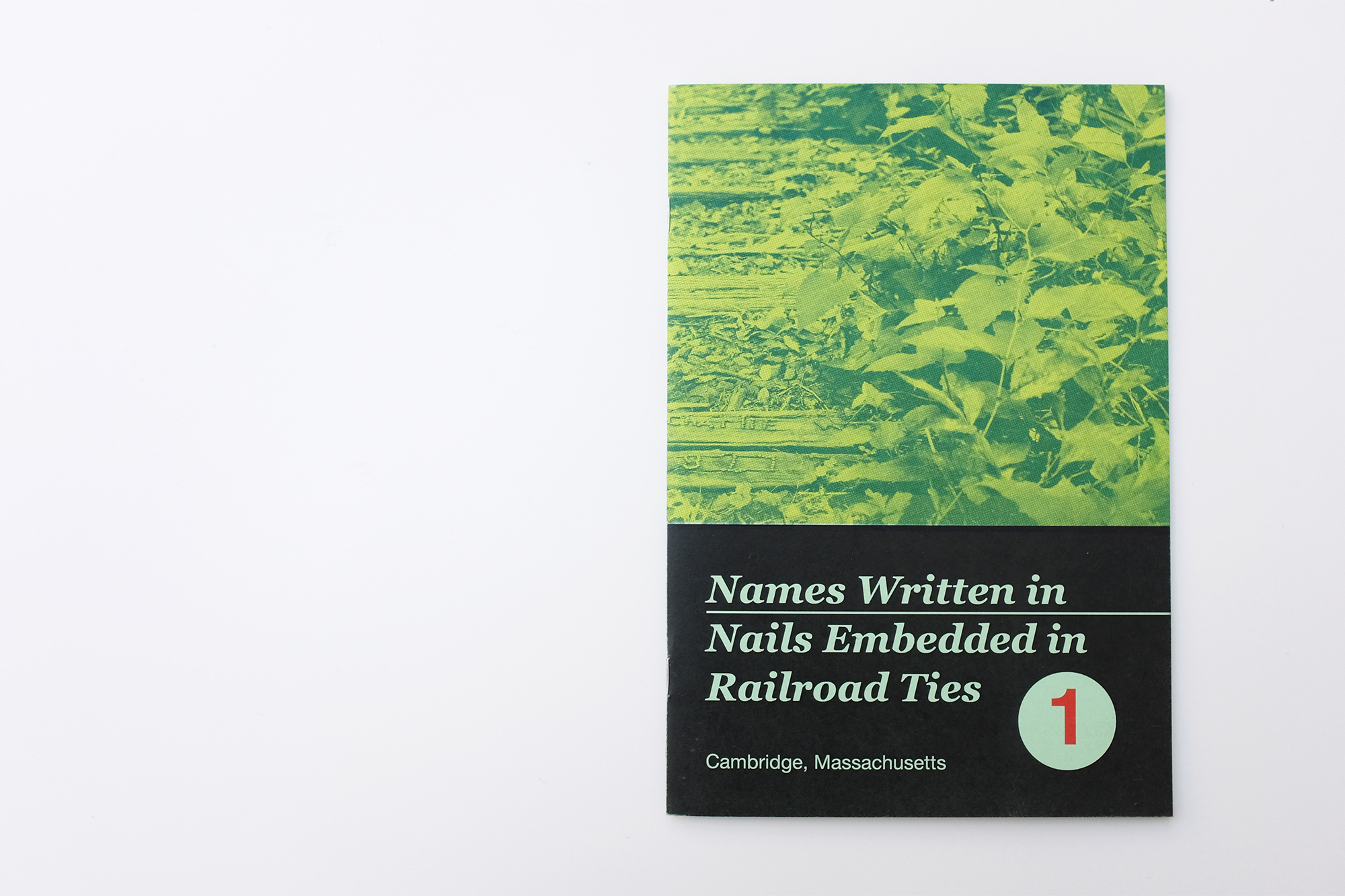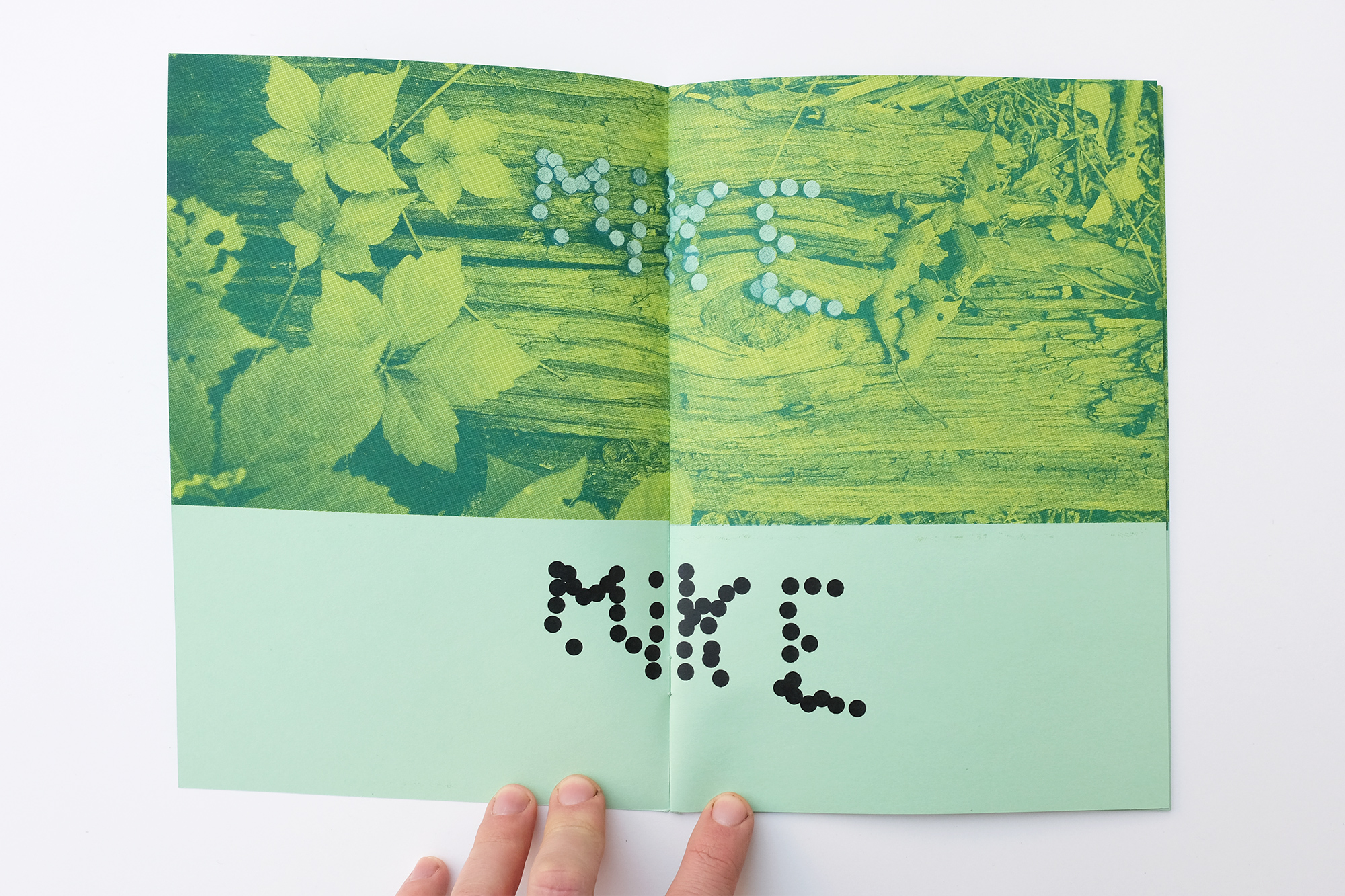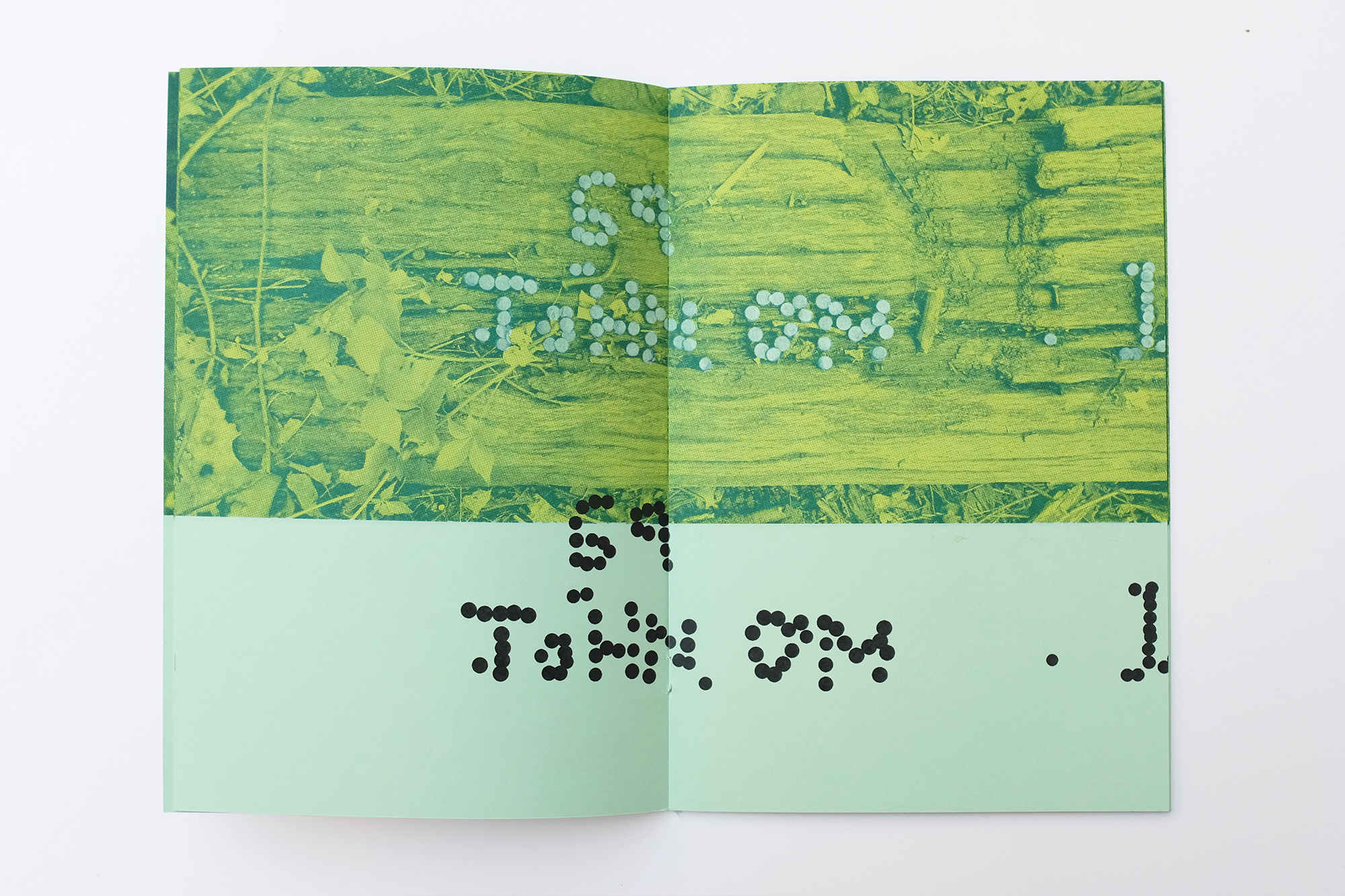 WRITTEN NAMES, A fanzine dedicated to occurrences of localized, unsanctioned public name writing.
Issue #1: Names Written in Nails Embedded in Railroad Ties, Cambridge, Massachusetts, 2016
Two-color risograph with laserprint, 20 Pages, Edition of 100, 9" x 6"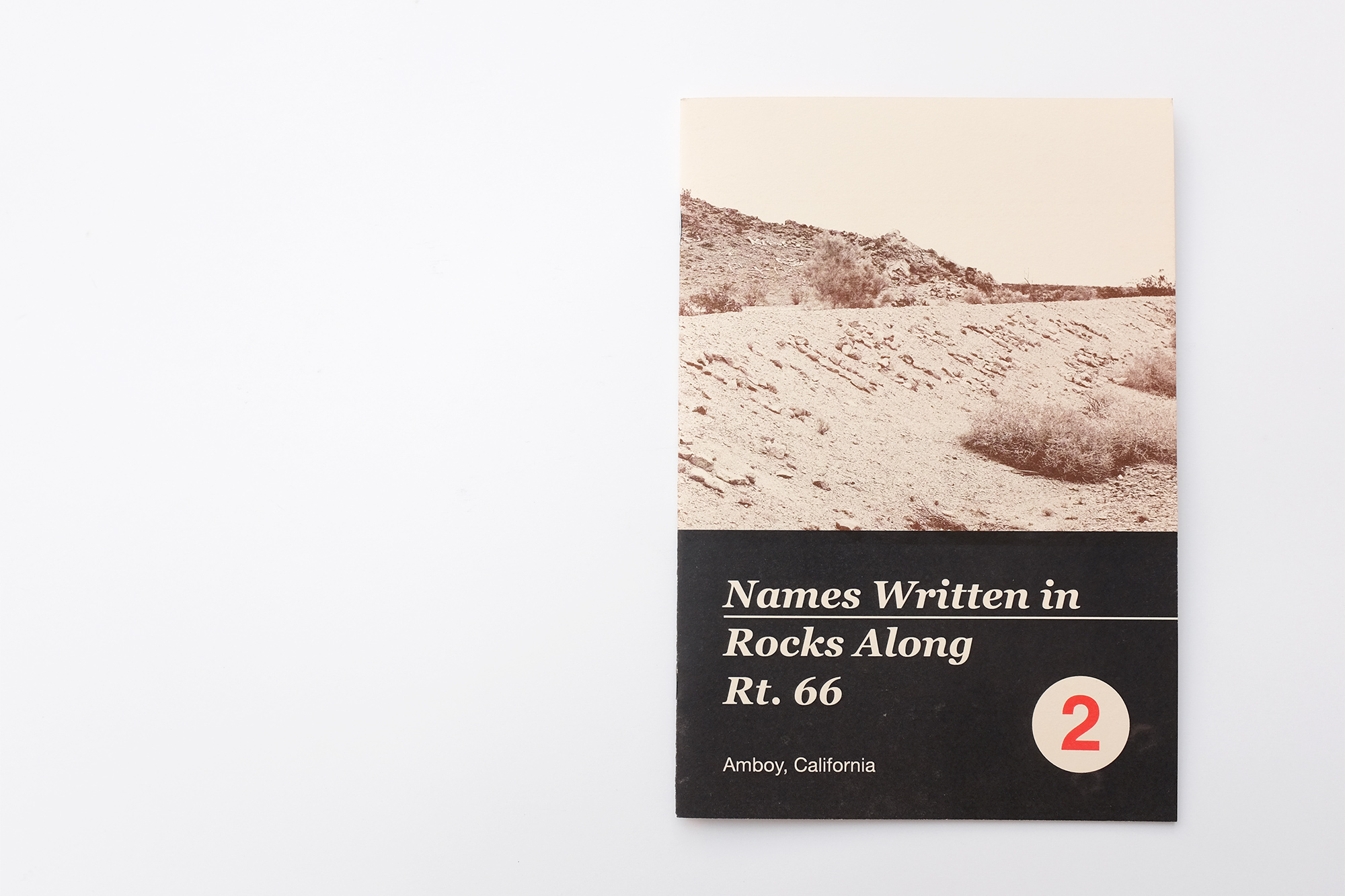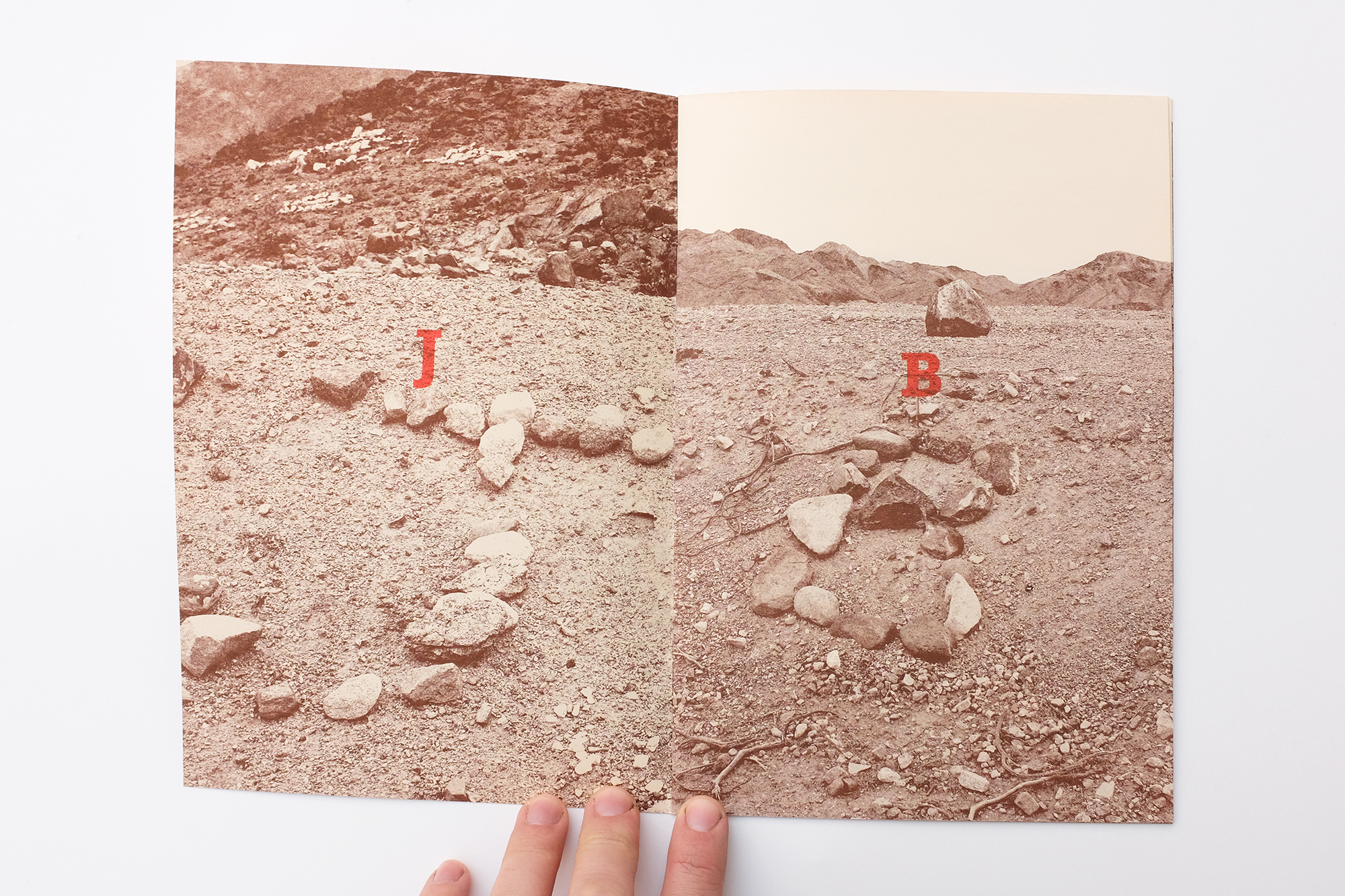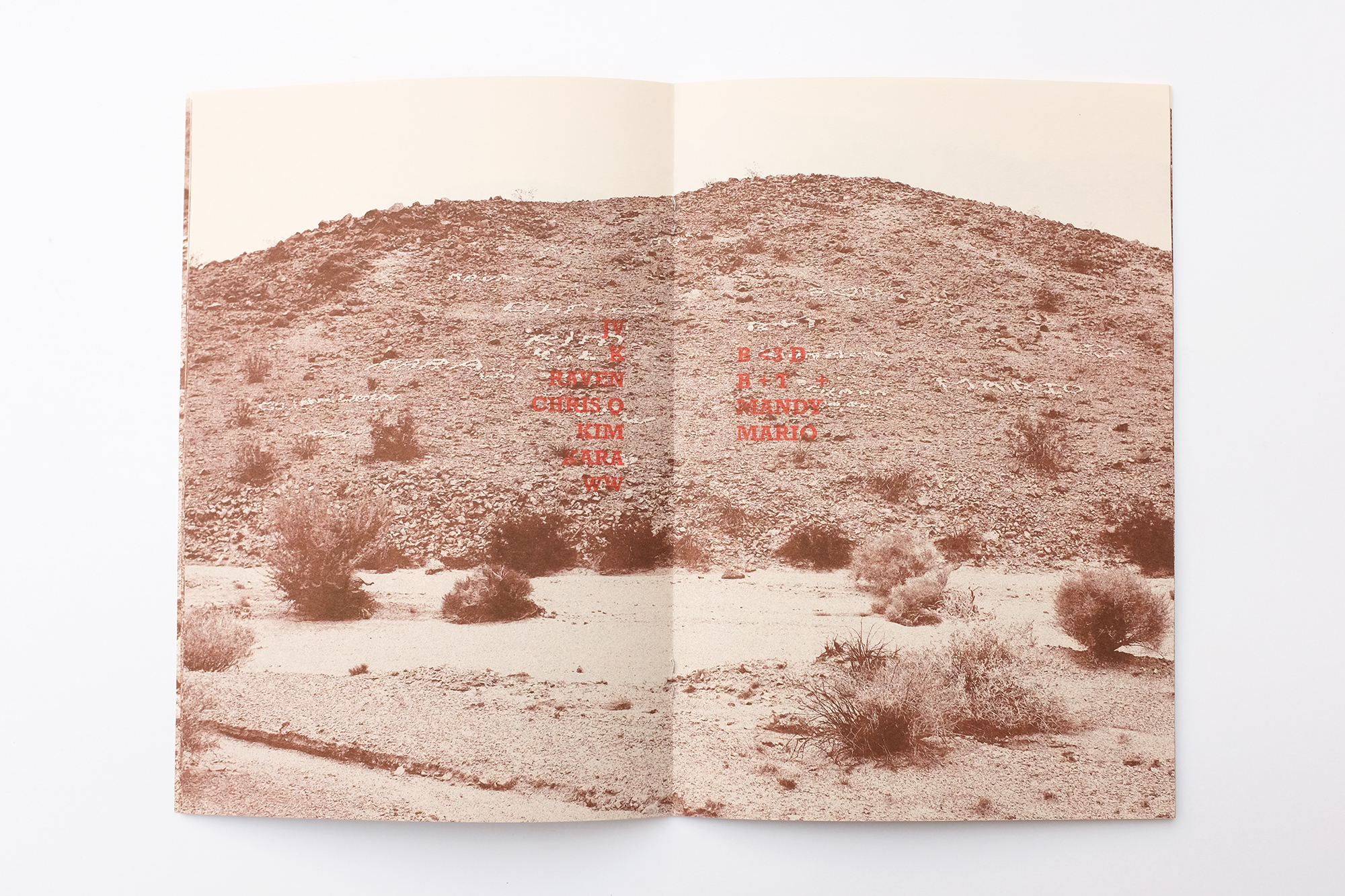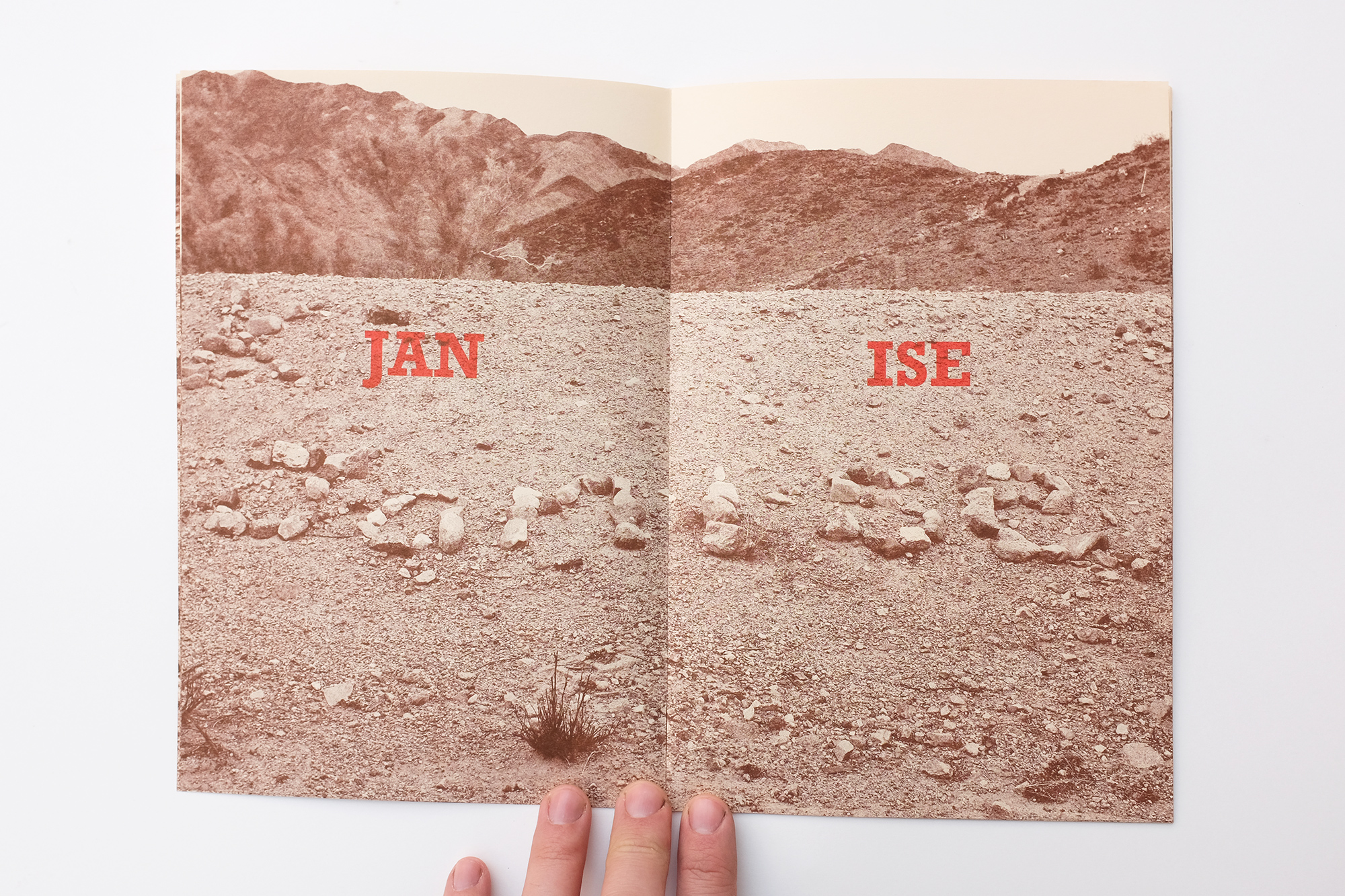 Issue #2: Names Written in Rocks Along Old National Trails Highway, Amboy, California, 2016
Two-color risograph with laserprint, 20 Pages, Edition of 100, 9" x 6"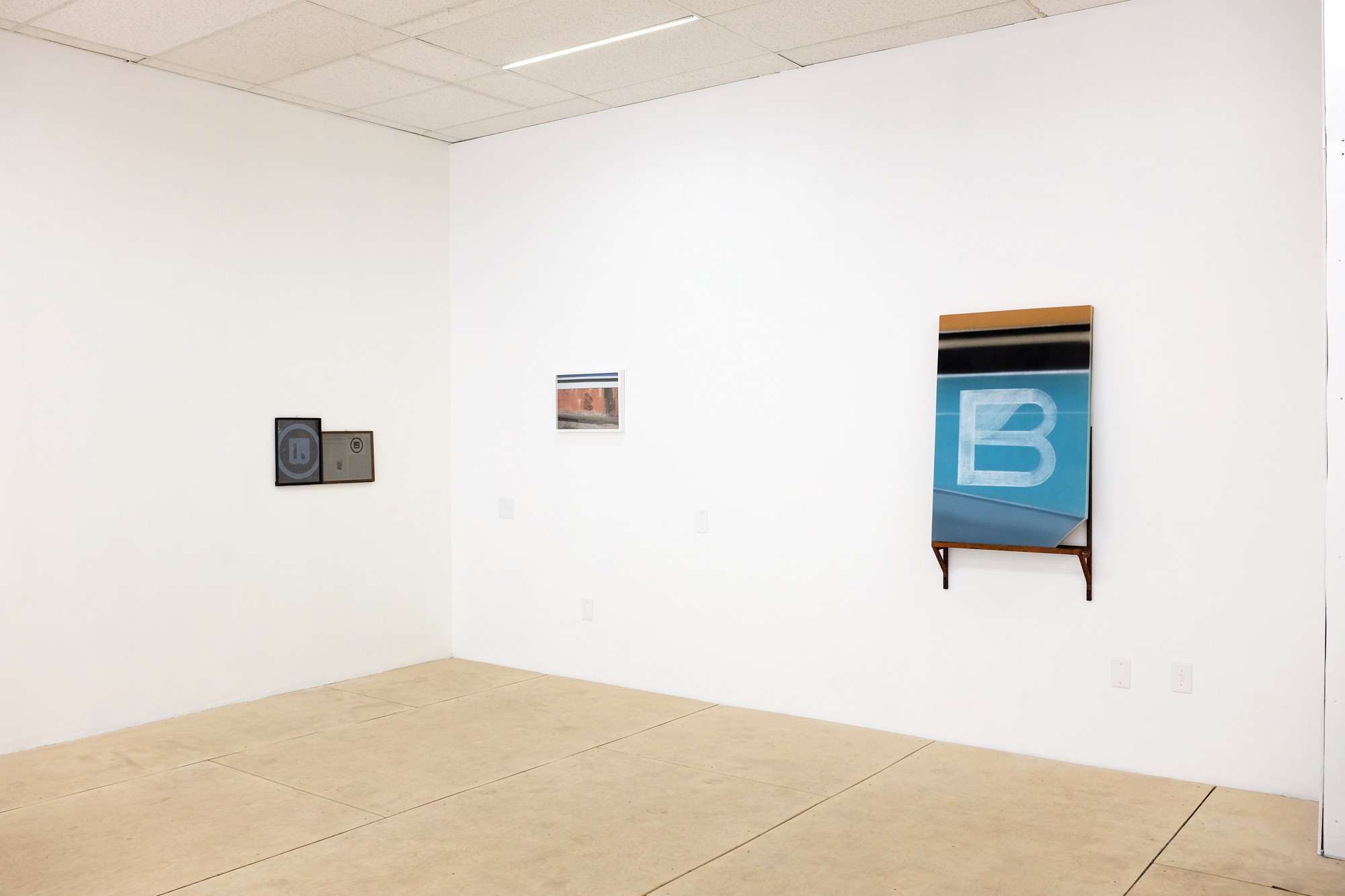 "B", Donora, PA, 2016
Vernacular markings in Donora, Pennsylvania serve as the impetus for an investigation of a fatal 1948 weather inversion.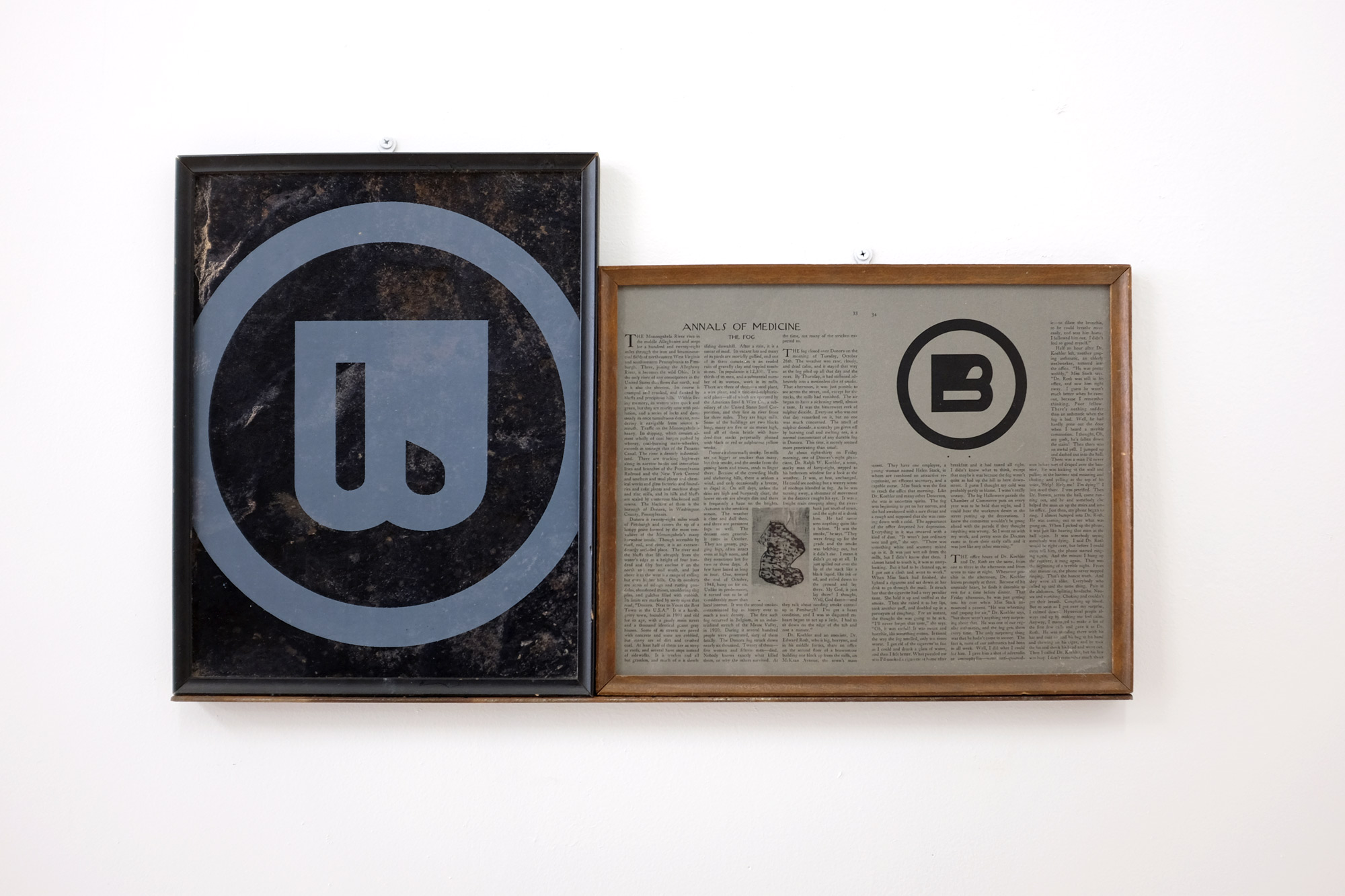 USXB // The Fog, 2016
Framed serigraph on Inkjet, Framed serigraph on photocopied excerpt of Berton Roueché's "The Fog," The New Yorker, September 30, 1950 P. 33 - 34, steel shelf.
26.5" x 14.5"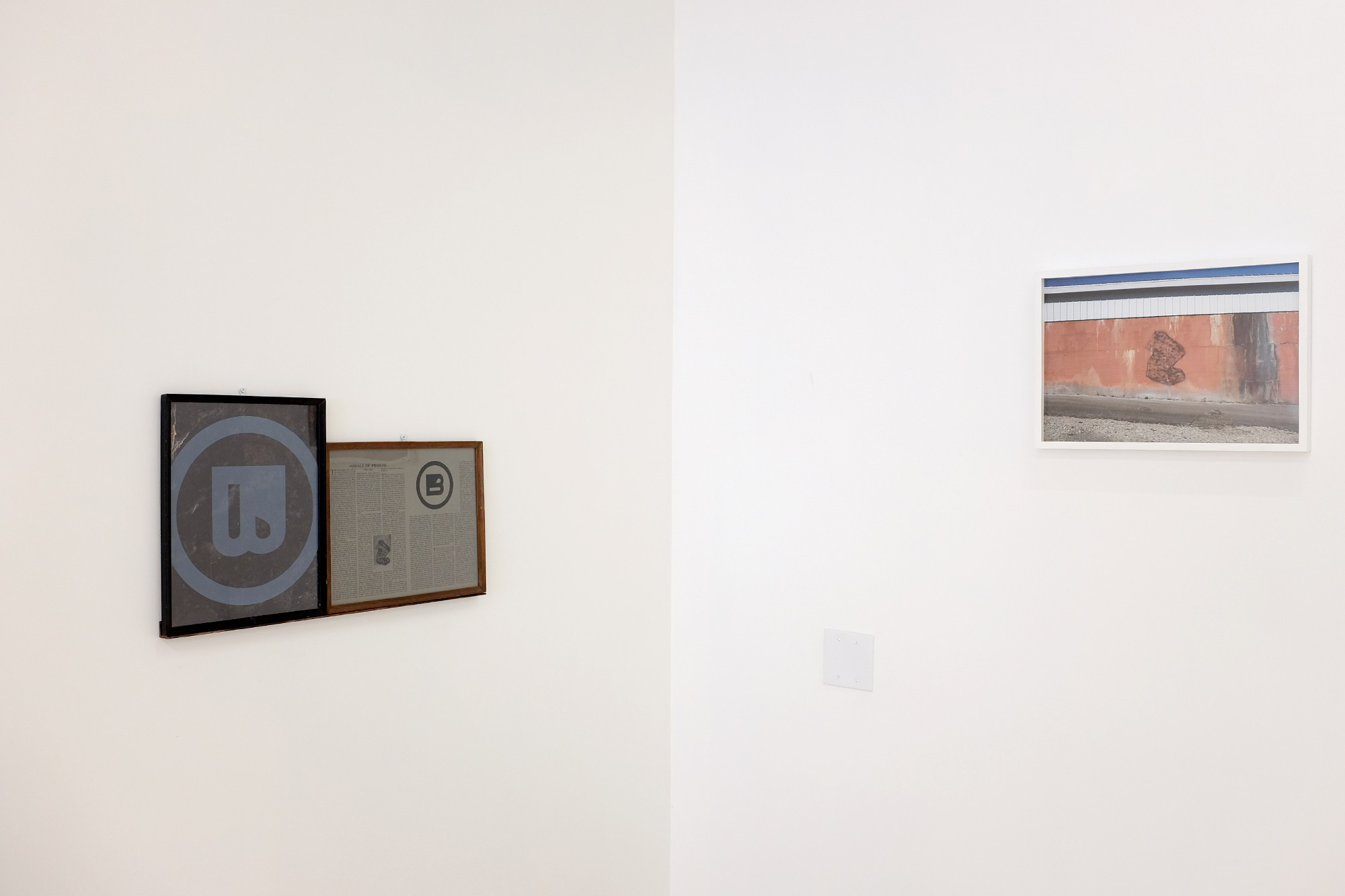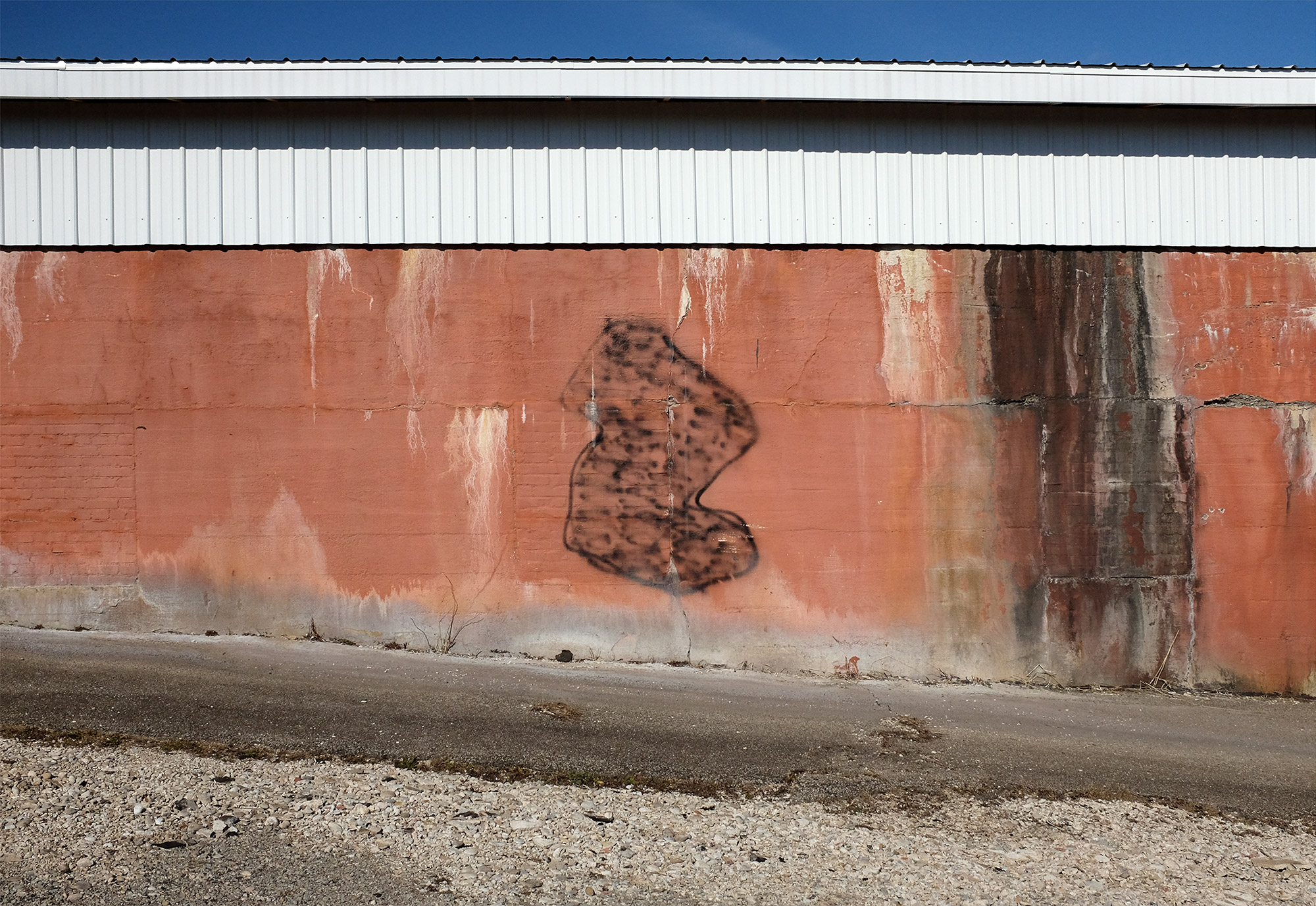 Foggy "B", Donora, PA, 2016
Inkjet Print
19" x 13"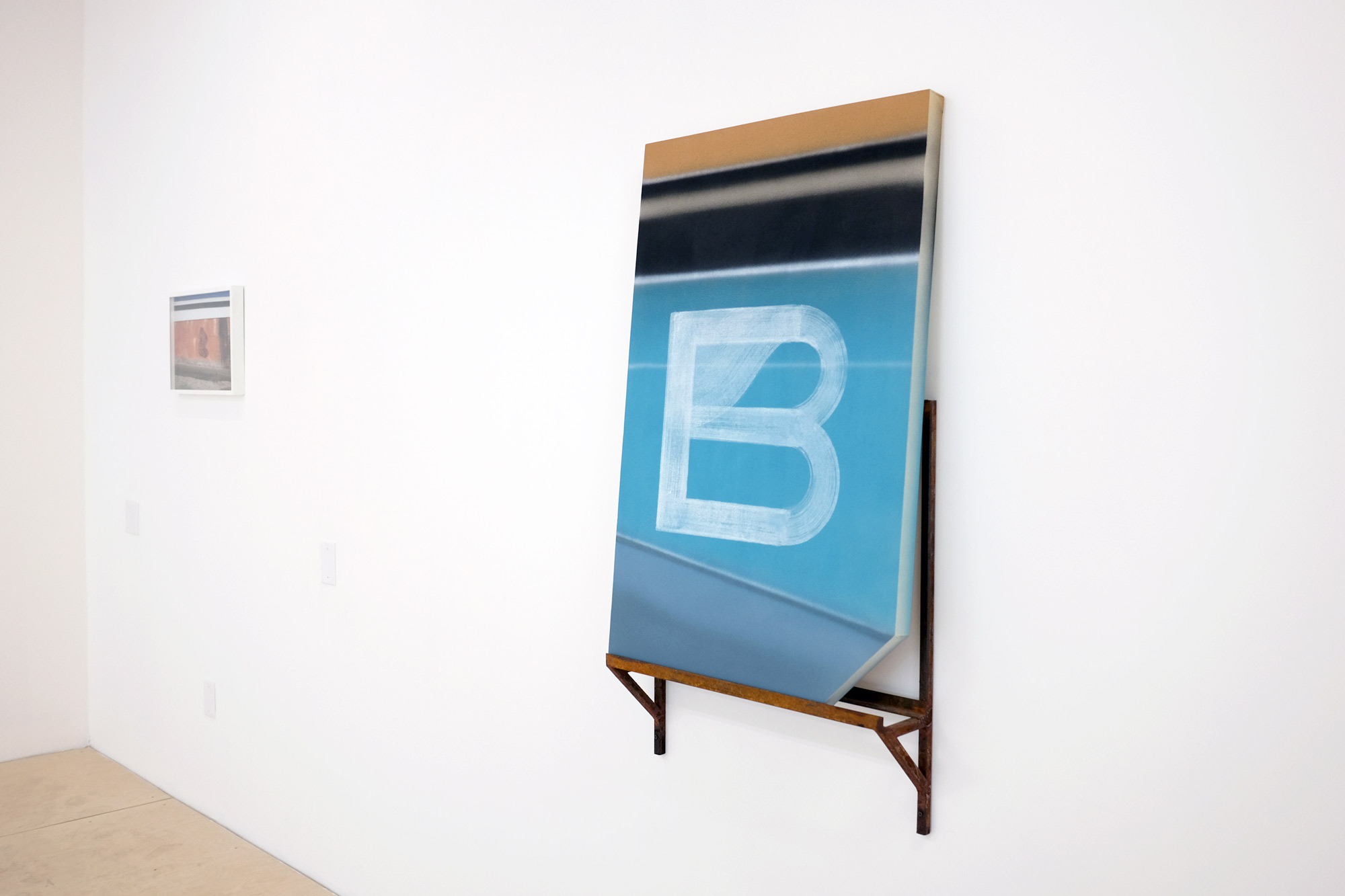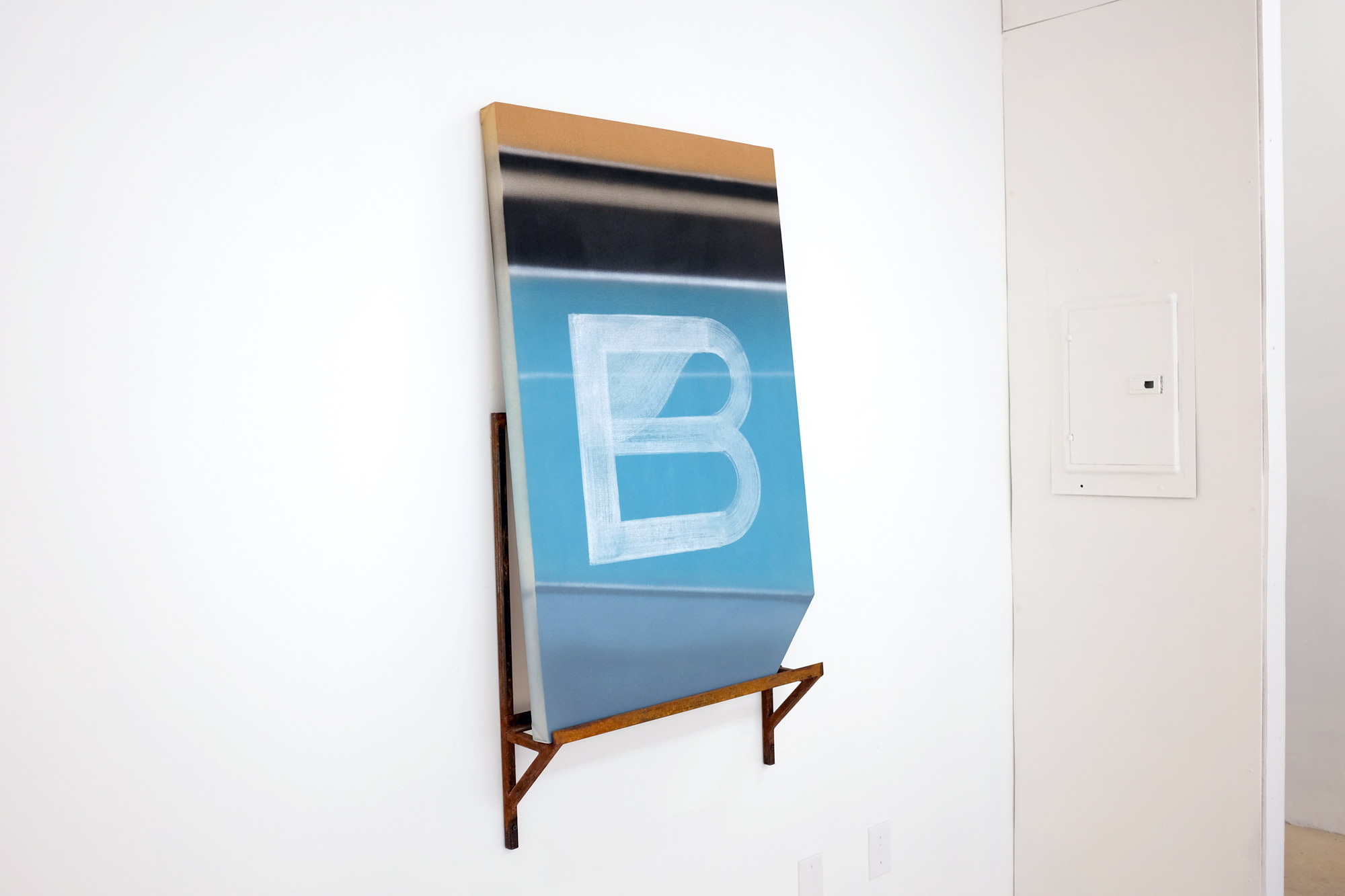 "B" Inversion, 2016
Enamel, sprayed latex, sprayed acrylic on canvas with steel
27" x 52"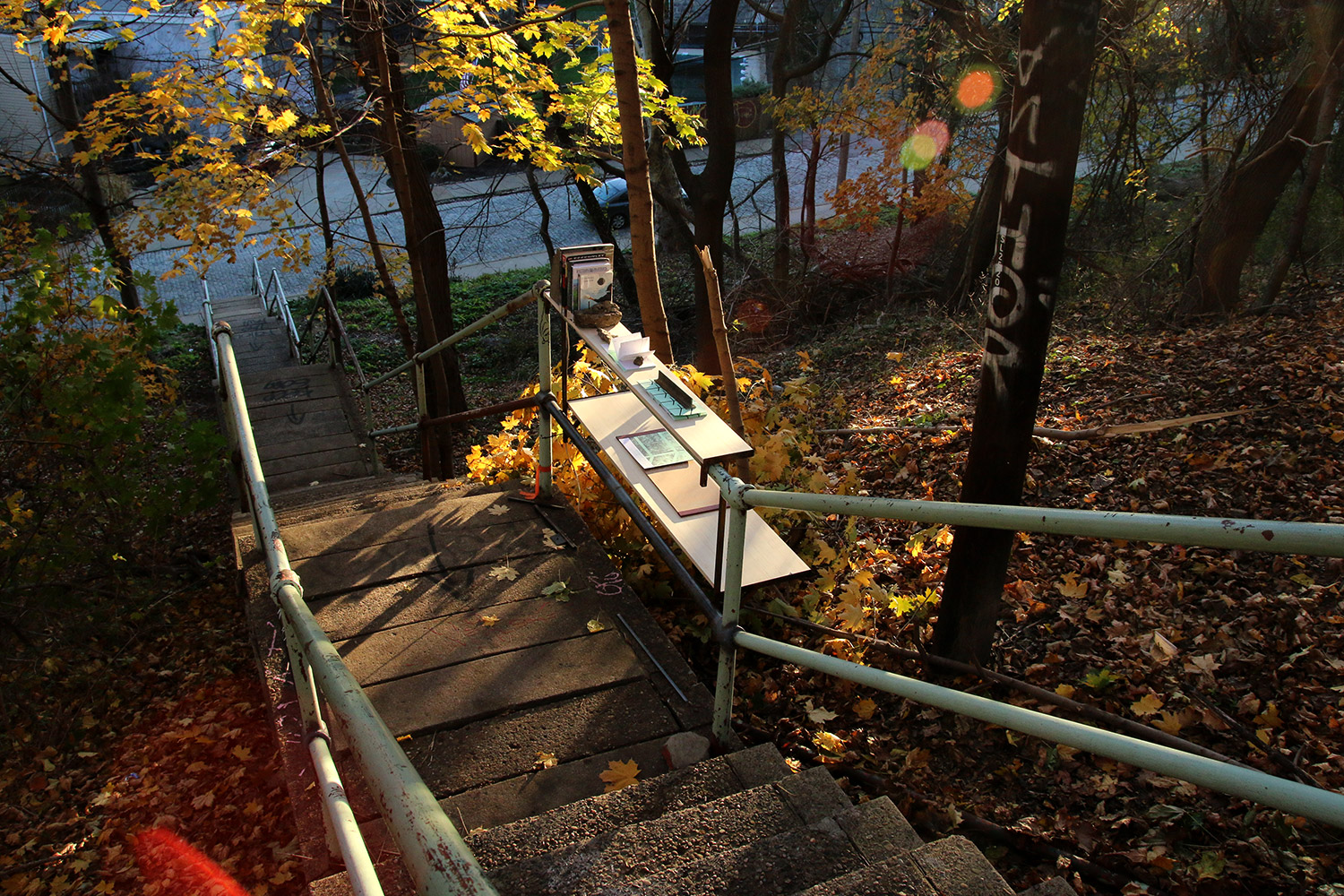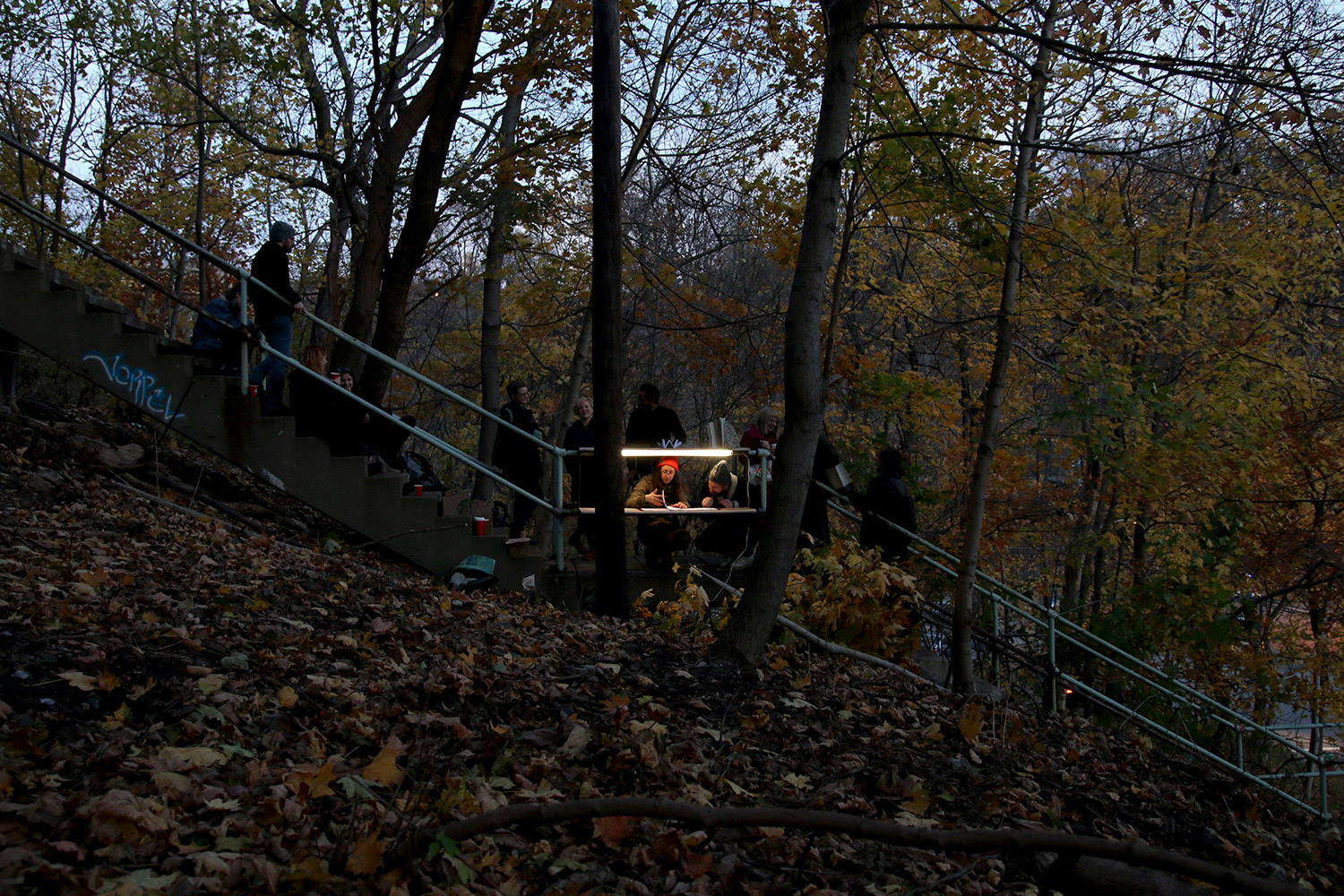 A Transcription of the Joncaire Street Steps, 2015
In anticipation of the purported demolition and replacement of the Joncaire Street Steps in Pittsburgh's Oakland neighborhood, DBQ presents A Transcription of the Joncaire Street Steps. Equal parts archive and crowd-sourced poem, this publication records the marks that have been made by some of those who have traversed the 136 steps connecting Panther Hollow to Central Oakland.
Described by a PennDot spokesperson as "deteriorated", the Joncaire Street Steps are one of over 700 sets of municipal stairs connecting sections of Pittsburgh too steep for vehicular traffic. The City of Pittsburgh has received $384,000 of federal funding from the Transportation Alternatives Project (TAP) to replace the Joncaire Street Steps, with plans to to begin construction in 2016
On Friday, November 20th, DBQ hosted a publication release event on the Joncaire Street Steps. In conjunction with the event, related readings from the nearby Carnegie Library of Pittsburgh were collected to form the second volume of another DBQ project, Open Stacks. The books were available for visitors to peruse during the reception.
(A Transcription of the Joncaire Street StepsIn collaboration with Leah Mackin as DBQ)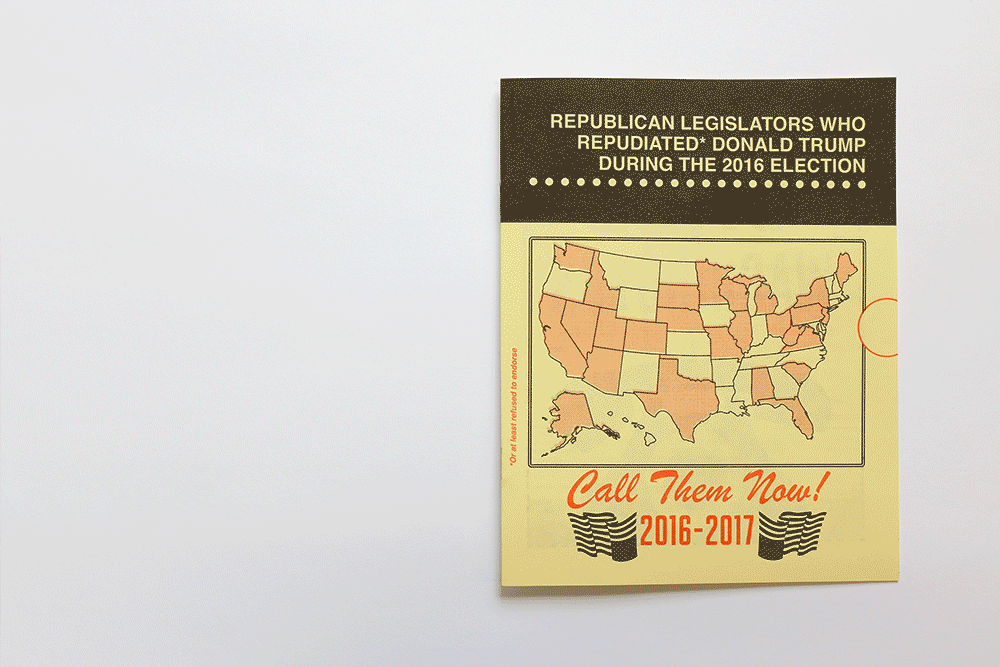 REPUBLICAN LEGISLATORS WHO REPUDIATED DONALD TRUMP DURING THE 2016 ELECTION
8 pages, 2-color risograph, 5.75" x 7.375", Edition of 200.
$5.00 - U.S. orders only, ships without an envelope - just a stamp on the back. Send a copy to a friend too!
ALL PROCEEDS WILL BE DONATED TO:
Planned Parenthood of Western Pennsylvania, The ACLU of Pennsylvania, and The Southern Poverty Law Center.